First Nations people are more likely to be refused bail, more likely to get jail sentences and are grossly over-represented in the prison population.
First Nations kids are also grossly over-represented in juvenile detention centres and are unfairly targeted in programs such as the Suspect Target Management Program.
And yet, the Northern Territory Government, the Territory with the highest percentage of First Nations people, continue to enforce a hard-line lock up attitude to crime.
This list is by no means exhaustive and does not begin to understand a first person impact of such data.
Aboriginal people more likely to be refused police bail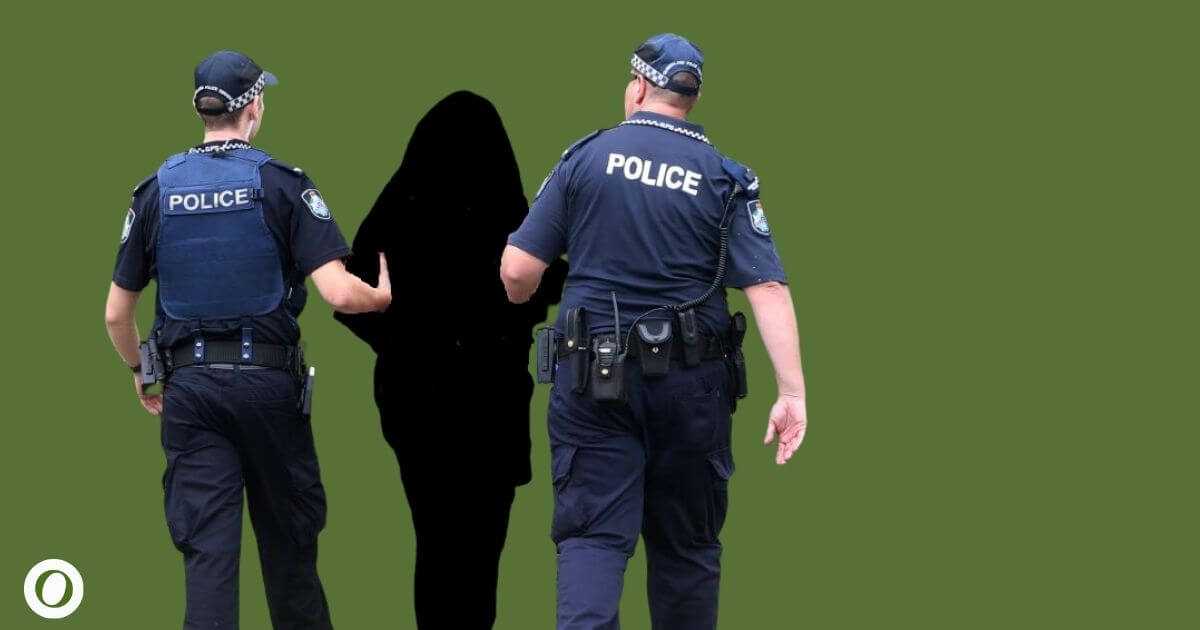 In a study of more than half a million bail decisions made in NSW over four years, Aboriginal people are 20.4% more likely to be refused bail by police than non-Aboriginal defendants.
Police bail occurs after someone has been arrested and charged for a crime. The police then decide whether to release someone until their court bail hearing, or to keep them in custody until their bail hearing.
BOCSAR said the finding that Aboriginal people appeared to receive less favourable police bail decisions warranted further investigation.
"Among people on remand, 25% of adults and 45% of young people are Aboriginal," BOCSAR executive director Jackie Fitzgerald said.
"This study confirms that bail decisions are overwhelmingly based on legal factors related to offending. However, it remains possible that Aboriginal people are disadvantaged in police bail decisions and that this is contributing to their over-representation in custody.
More likely to receive jail sentences
Aboriginal people are more likely to receive jail sentences. In the Northern Rivers and Sydney region, First Nations people are twice as likely to receive custodial sentences for any offence. They are three times more likely to receive custodial sentences for public order offences.
Public order offences include offensive language, offensive behaviour, affray and more.
Data collated by the Sydney Morning Herald show that in 2019 alone, 16% of Indigenous offenders received a custodial sentence, compared to 8% of non-indigenous offenders.
For crimes such as offensive language, offensive conduct or failure to move on, 19% of Indigenous offenders received a jail sentence, compared to 6% of non-Indigenous people.
Gross over-representation in custody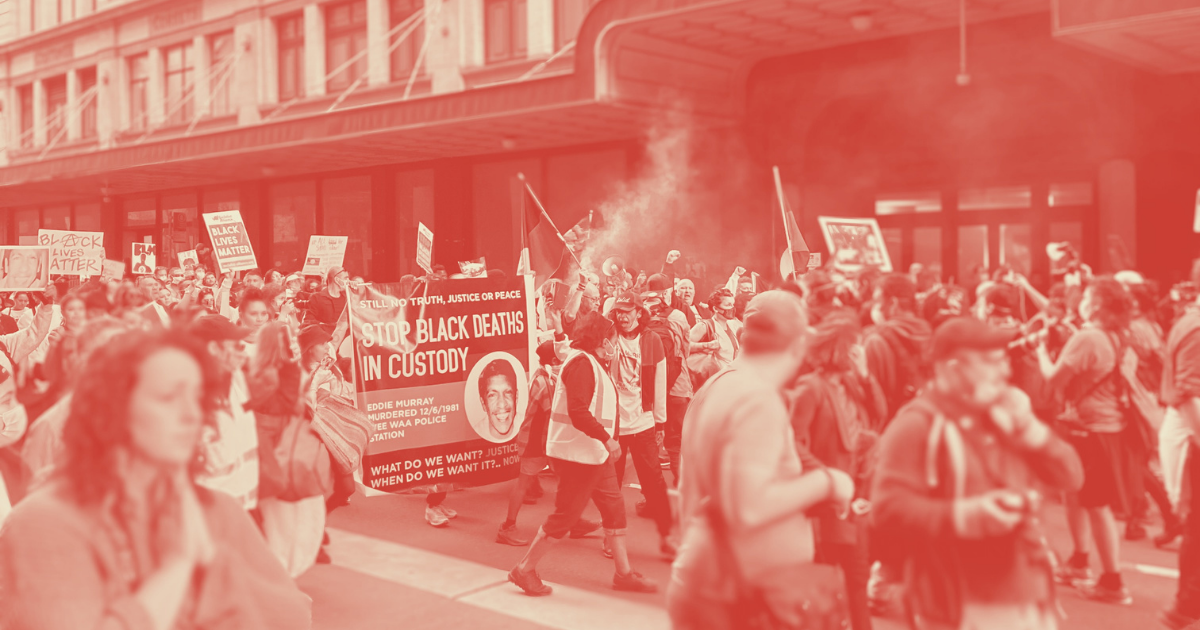 For decades, Indigenous Australians have been grossly over-represented in custody across the country.
Although Aboriginal and Torres Strait Islander people make up 3% of the total population in Australia, they constitute 29% of the national prison population. This is a growth of 2% from 2019 to 2020.
In addition, 1 in 5 offenders serving community correctional orders are Aboriginal and Torres Strait Islander.
Having more Indigenous Australians inside prisons raise significant concerns due to the high number of Indigenous deaths in custody.
Indigenous kids in custody
It's not only First Nations adults who experience over-population in prisons. A whopping 70% of all kids in juvenile detention are Aboriginal or Torres Strait Islander.
Children as young as ten are being arrested and imprisoned. This is due to the incredibly low age for criminal responsibility in Australia, which is out of line with the rest of the world.
The current age of criminal responsibility defies contemporary medical evidence on the mental development of young children. It flies in the face of overwhelming sociological evidence of the damaging effects of the criminal justice system on young persons. Further, it is an offence to Australia's obligations as a signatory of the UN Convention on the Rights of the Child.
Deaths in Custody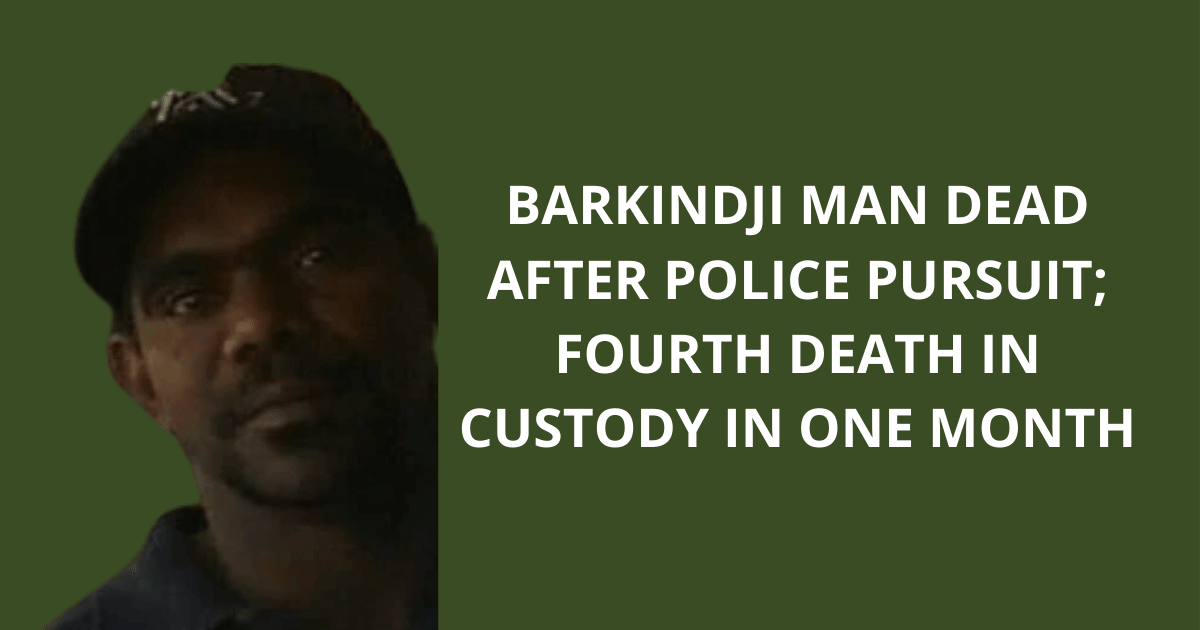 April 15 marks the 30th Anniversary of the release of the final report from the Royal Commission into Aboriginal Deaths in Custody.
The death of Anzac Sullivan marks the 442nd death since this report was released.
Earlier this month a 35-year-old Aboriginal man died in Long Bay Hospital after he was found unresponsive in his cell. A 44-year-old woman died in Silverwater women's prison three days later. Another Aboriginal man died in Victorian custody on March 7.
Indigenous people in regional communities targeted for strip searches
Indigenous people in NSW regional communities are excessively targeted with invasive police strip searches. Redfern Legal Centre revealed last year that 13 per cent of strip searches are undertaken on Aboriginal and Torres Strait Islander peoples. Even though they only make up 3 per cent of the State's population.
Between 2018 and 2020, the highest rates of strip searches were in Dubbo, Taree, Moree and Orange respectively.
However, figures could be much higher due to underreporting by police.
Other areas of high numbers were Aldavilla, Bathurst, Burke and Wellington.
Surry Hills, in Sydney's inner-city also recorded a high number of searches.
One Taree resident told NITV that he believes he has gone through a strip-search more than 35 times.
"Indigenous people here have no trust or confidence in the coppers at all. There's no communication. The only time we see them up here talking to us is to question someone," Wayne Stewart-Paulson told NITV.
"I have been strip searched twice in one night, both searches found nothing, I was just targeted by them because I was Aboriginal, and it just makes me heaps more resentful towards the police," he said.
Secret Blacklist targeting Aboriginal People
The Suspect Target Management Plan (STMP) is a police list that identifies people who police believe are at risk of committing an offence in the future. 55% of STMP targets are Aboriginal and almost half are under the age of 25.
The STMP is targeting people from Indigenous backgrounds. More than half of the people on the list coming from these communities. That means that there are almost 1000 Aboriginal and Torres Strait Islander people across NSW that are subject to stop and searches by police on a routine basis.
What makes the STMP even worse is the fact that there is no transparency over the criteria for inclusion on the list and it is unclear how police allocate risk categorisation. This means that police target a person without even formally notifying that person that they are on the list.
There is no method to confirm.
There is no method to appeal.
People simply are subjected to police abuse without any method of recourse. Some of these people are still in primary school, and many have no criminal history. These people should be free to live their life without constant police interference.