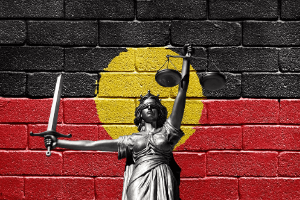 Prominent Indigenous lawyers are calling for the government to set up the Walama Court as a matter of urgency. In an open letter, they pushed for the Court to be opened to help divert Indigenous offenders from prison and reduce reoffending.
Among those behind the letter are the nation's first Indigenous silk Tony McAvoy, Professor Larissa Behrendt and Megan David.
NSW First Nations lawyers call on the NSW Govt to take immediate steps to establish the Walama Court in NSW, to combat the over-incarceration of First Nations people. It is an obvious choice for NSW to meet the new Close the Gap Justice targets. pic.twitter.com/u2ihfgzPoJ

— Ngalaya (@Ngalaya) July 31, 2020
What is the Walama Court?
The Walama Court is a proposed court that would involve Aboriginal and Torres Strait Islander Elders in sentencing discussions, rehabilitation, and monitoring of Indigenous offenders. Walama means "come back" in Dharug language, the language of Sydney. The proposed court has backing from the NSW District Court.
Offenders wishing to utilise the Walama Court must plead guilty to participate. Any sexual offences are excluded from the program. The program is based on intensive supervision of participants, within a culturally appropriate mechanism.
The Court would be open to 75-100 participants a year and would centre around community-based, holistic support for First Nations people.
The business case for the Court was prepared by the NSW Justice Department in 2018, and stated that it would cost less than $4 million a year, and deliver millions in savings.
Why do we need a Walama Court?
Currently in NSW, Indigenous people make up 2.8 per cent of the population but 25 per cent of the prison population.
"BOCSAR has demonstrated the benefits of Circle Sentencing in NSW, and we commend the NSW Government on its expansion of the youth Koori Court. It is time to extend and broaden this approach for First Nations men and women to reduce their over-incarceration at a rate of 13.5 times higher than non-Indigenous people in New South Wales," the open letter states.
The business case prepared for the Court stated that "the main drivers of Aboriginal and Torres Strait Islander peoples' incarceration are complex and include intergenerational trauma, family violence and sexual abuse, social exclusion and racism, substance abuse, health, education, unemployment and child protection issues."
Attorney-General Mark Speakman stated that the Walama Court was just one step in the right direction. "The over-representation of Aboriginal people in the criminal justice system is a national tragedy for which there is no simple solution."
If you want to sue the police or corrective services for unlawful arrest, false imprisonment, malicious prosecution or police assault, battery or brutality, contact O'Brien Criminal and Civil Solicitors on (02) 9261 4281 to set up a free appointment with the civil lawyers in our Sydney office.