Thirty years on from the Royal Commission into Aboriginal Deaths in Custody and the issue is still raw and rampant.
Over 470 First Nations people have died while in custody since that Royal Commission. What action does Government need to take to stop these deaths?
WHO: NATSILS Co-Chair Priscilla Atkins will be joined by:
Senator Patrick Dodson,
Senator Lidia Thorpe,
Jungaji Brady, nephew of Aunty Sherry, and
Nioka and Colin Chatfield, parents of Tane Chatfield.
WHAT: A webinar discussion on the immediate action that needs to be taken to prevent further deaths in custody
WHEN: Thursday April 15, 2021 at 1pm AEST.
WHERE: This webinar is no longer available.
#JUSTICEFORAUNTYSHERRY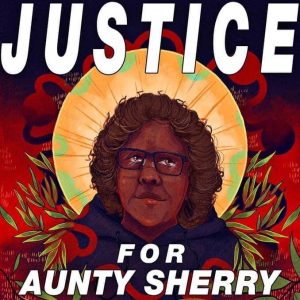 Aunty Sherry Tilberoo was 49 when she was found dead in her cell at Brisbane watch house on September 10, 2020.
Aunty Sherry had been on remand in custody for three days when she died, waiting for a transfer to a correctional facility.
The Coroner has stated that Aunty Sherry died of natural causes. However, this doesn't alleviate concerns due to the duty of care owed by watch house officers to those in custody.
Watch house officers last saw Aunty Sherry moving around midnight, and they found her deceased at 6am the following morning. In those six hours, she had not been physically checked on once.
"So there's a period of somewhere between five and six hours that we're talking about where the issue around the appropriate combination of viewing what's occurring in cells from CCTV footage is married up with protocols around the physical checking that happens in cells," Codd said.
The frequency of checks on prisoners depends on an inmate's risk level. Watch house administration deemed Aunty Sherry to be in the 'normal' risk level, which required hourly checks from the cell door.
The officer who has been suspended was not a sworn police officer, but an assistant watch house officer. These officers have employment under a different regime.
Codd stated that a review would happen into the watch house process.
#JUSTICEFORTANECHATFIELD
Tane Chatfield was 22 years old when corrections officers found him hanging in his cell at Tamworth Correctional Centre in 2017. Tane had only been back in prison for an hour after spending the night in Tamworth Base Hospital following multiple seizures in his cell.
Coroner Harriet Grahame ruled the death a suicide but was extremely critical of the care of the Kamilaroi Gumbaynggirr Wakka Wakka man.
The nurse who only assessed Tane for a matter of minutes before sending him to his cell has been referred to a professional standards board.
The nurse had little understanding of why he had attended the hospital. Notably, she stated in the inquest that if she had of known she would have not let Tane back into his cell.
"In my view, the care provided to Tane was cursory and inadequate," NSW Deputy State Coroner, Harriet Grahame stated.
Ms Grahame addressed the failure of the NSW justice system to appropriately reduce the "grossly disproportionate incarceration of Indigenous people or to properly grapple with the underlying factors".
"Quite simply, more young Aboriginal men like Tane must be diverted away from the criminal justice system if we are to reduce the number of Aboriginal deaths in custody nationally," she said in her report.
Tane Chatfield first entered custody aged 14.
"Tane's death must be understood in its context of real social injustice, ongoing dispossession and his lived experience of inter-generational trauma," the coroner said.