Barkindji man Anzac Sullivan has died after being pursued by police in Broken Hill on Thursday 18 March.
Anzac is the fourth Indigenous death in custody in less than a month, and the third in the state of NSW alone.
NSW Police have stated that a critical incident investigation has been launched following the 37-year-old's death.
Anzac's sister, Donna, said he was a "loved brother, nephew, son and uncle."
In a statement, NSW Police said officers on the day attended an address in the town over an outstanding warrant.
"It is alleged the 37-year-old man ran from police. A short time later patrolling officers were alerted to a male suffering a medical episode nearby," it read.
"Police commenced CPR on the man before he was taken to Broken Hill Hospital and declared deceased."
Aboriginal Legal Services NSW/ACT Principal Solicitor Sarah Crellin is demanding an independent inquiry.
"We are calling for Anzac's death to be investigated urgently by an independent body, and for this investigation to be transparent and accountable to Anzac's family and the Broken Hill Aboriginal community," Crellin stated.
"Any death in custody is an absolute tragedy, and our hearts go out to the Sullivan family and their community. We are devastated and furious that another precious life has been lost,
"For four deaths to occur in the space of a little over a fortnight is a huge red flag that something is seriously wrong with police and corrections systems in Australia."
442 deaths in custody since the Royal Commission
View this post on Instagram
April 15 marks the 30th Anniversary of the release of the final report from the Royal Commission into Aboriginal Deaths in Custody.
The death of Anzac Sullivan marks the 442nd death since this report was released.
Earlier this month a 35-year-old Aboriginal man died in Long Bay Hospital after he was found unresponsive in his cell. A 44-year-old woman died in Silverwater women's prison three days later. Another Aboriginal man died in Victorian custody on March 7.
Gunnai Gunditjmara and Djab Wurrung woman Senator Lidia Thorpe gave an emotional press conference after she heard the news.
"My people are sick of losing people. They tried to wipe us out 200 years ago, they failed, and we are still trying to survive in this country, and they are killing us in the prison system.
"The federal government are so full of excuses, and they're so full of talk. They love passing the buck, and then the states and territories pass the buck to the feds."
"Yet, we're still meant to get up and do our job and protect country, and try and get our kids out of out of home care, try and get our people out of prisons who are there for no reason, they're just on remand, our children are being locked up from the age of 10," Ms Thorpe said.
"This is genocide. I know people don't agree with that, but when will the killing stop?"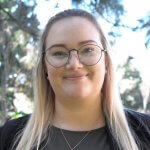 Sarah is a civil solicitor who primarily practices in defamation, intentional torts against police, privacy and harassment.