O'Brien Criminal & Civil Solicitors confirms that we have instructions from Ms Anya Bradford to commence proceedings against the State of New South Wales in relation to the conduct of a NSW police officer in May 2019, which were subject to criminal proceedings and where NSW police officer Mark Follington was yesterday convicted.
The proceedings are to be imminently filed in the NSW District Court and allege a range of police misconduct including assault, battery, unlawful imprisonment, and malicious prosecution.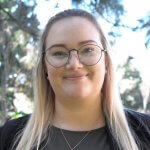 Sarah is a civil solicitor who primarily practices in defamation, intentional torts against police, privacy and harassment.