Environmental and social justice activist Jack Mundey died at the age of 90 last May.
Mundey's state funeral will be held next Wednesday, March 10, 2021, at Sydney Town Hall, to commemorate this Australian hero.
Jack Mundey is celebrated for his pioneering role in the green bans movement of the early 1970s, where large sections of Sydney were saved from demolition.
Without these bans, Sydney would not have retained its inner heritage suburbs of The Rocks, Woolloomooloo, Darlinghurst and Glebe. It would also not house glorious heritage buildings in the CBD, and housing for the Aboriginal community in Redfern.
This green bans reflected Mundey's visionary view that radical social justice movements must encompass ecological awareness. Mundey brought environmental concerns to the heart of mainstream politics.
A life-long love of nature and equality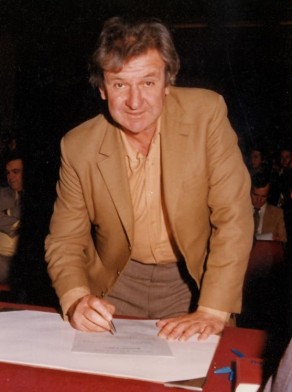 Growing up in the forests of northern Queensland in the 1930's, Mundey developed a love of nature from a young age. His father was a dairy farmer and his mother passed away when he was only six.
The sporty kid ended up playing rugby league for the Parramatta Eels while working as a labourer. Mundey joined the Communist Party in the 1950s and put himself on the line for many causes including being arrested for protests against conscription for the Vietnam War.
Mundey led pacts of labourers in courageous campaigns for better work conditions. By 1968, he was elected secretary of the NSW Builders Labourers Federation. During his reign, meetings were translated into seven languages to meet the needs of migrants, and women were admitted as members and organisers of the union.
Jack Mundey inspired thousands of working-class and middle-class residents to stand with the union. Although the conservative media vilified Mundey, he won over many journalists with his capacity to articulate his ideas concisely and calmly.
Mundey served as a councillor on the City of Sydney from 1984 to 1987, representing The Rocks area. In 1995, he was appointed chair of the NSW Historic Houses Trust. There, he actively campaigned to save many sites including the Finger Wharf, the Female Factory in Parramatta, and the Sirius building in The Rocks.
By the early 2000s, Mundey had joined the Greens and remained a member until his death. He was quoted as saying that he was originally inspired by their opposition to the Iraq war and their defence of public land.
A State Memorial
A State Funeral for Jack Mundey will be held at 11 am on Wednesday 10 March at Sydney Town Hall. 
Due to COVID restrictions there are Government limitations on numbers. With the relaxation of some COVID rules in recent days there is expectation that more people may attend.
We encourage you to register you interest to attend here: www.nsw.gov.au/state-services