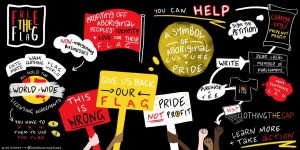 WAM Clothing, the licensees of the copyright of the Aboriginal Flag fronted a Senate committee on Monday, but didn't give much away.
The two company directors, Semele Moore and Benjamin Wooster were asked many questions however most remained unanswered. Ms Moore cited confidentiality reasons and that fact she didn't have her laptop with her as reasons for the lack of answers, according to the ABC.
They also refused to take any questions on notice.
If you're not familiar with the current situation, the Australian flag (the blue, red and white one) is protected under the Flags Act 1953 and can be reproduced commercially, or recreationally free of charge. There are some exceptions to the commercial reproduction but that mainly focuses on importation and trademarks.
The Aboriginal flag, on the other hand, is subject to the Copyright Act 1968. The Federal Court of Australia officially recognised Harold Thomas as the author of the flag in 1997. This meant that it is protected under copyright and can be licensed to others for a fee.
The WAM saga – Free the Flag
Clothing company "WAM Clothing" holds and exclusive worldwide rights to use the flag on clothing. They acquired the rights in 2018. Another company, Flagworld, holds exclusive rights to use the design on flags and Gifts Mate also holds a licence.
All three companies are owned by non-Indigenous people.
One of the owners of WAM Clothing also owned Birubi Art – the company that received a $2.3 million fine for selling fake Aboriginal art.
Just a few weeks ago, the AFL made the decision to not use the Aboriginal flag in its annual Indigenous round as it didn't want to enter a commercial agreement with the non-indigenous company for the rights.
Talks for the Government to buy the rights of the Flag
Companies and advocacy groups such as Clothing the Gap have been advocating to "Free the Flag" for a while.
On 3 September 2020, the Senate agreed to establish a Select Committee on the Aboriginal Flag. The Committee is set to investigate copyright and licencing arrangements for the Aboriginal flag design with focus on who benefits from payments to use the design and how that affect Aboriginal organisations, communities and Australia broadly.
The Committee is chaired by NT Labor senator and Yanyuwa woman Malarndirry McCarthy.
During the questioning, Ms Moore confirmed that WAM Clothing and Harold Thomas were in talks with the National Indigenous Australians Agency (NIAA) – a federal government organisation who is looking to acquire the rights of the flag.
The report is due on 13 October 2020, with submissions due by this Friday.
O'Brien Criminal & Civil Solicitors supports the Federal Government investigating viable options to obtain the rights to the Flag in a way that benefits both Mr Harold Thomas and Aboriginal communities around Australia.