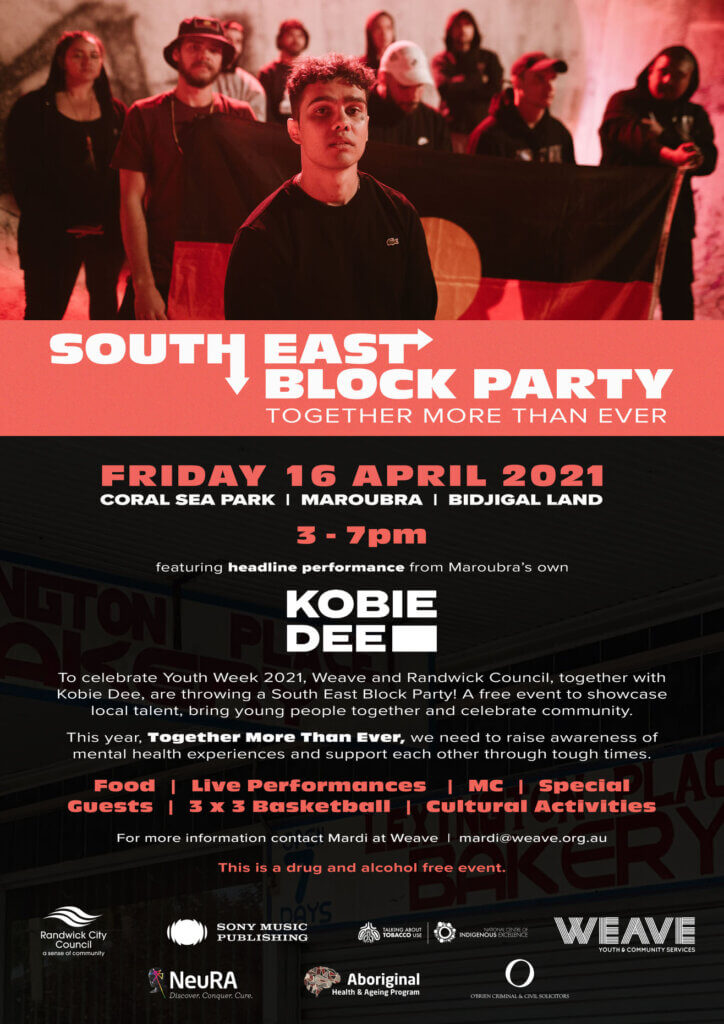 To celebrate Youth Week 2021, a free block party is being thrown by Weave Youth & Community Services and Randwick City Council alongside Rapper Kobie Dee.
WHEN: Friday 16 April 3pm to 7pm
WHERE: Coral Sea Park, Maroubra – Bidjigal Land
WHY: To celebrate Youth Week! And get a free concert from Kobie Dee!
O'Brien Criminal & Civil Solicitors are proudly sponsoring the event, which aims to bring young people across all Sydney's South East communities together to raise awareness of mental health experiences and support each other through tough times.
The block party will be a free event, showcasing local talent and bringing young people together, celebrating the community. There will be food, stalls, cultural activities, 3 x 3 basketball and special guests!
The theme for Youth Week this year is "Together More Than Ever".
Rising star Kobie Dee supporting community
Kobie Dee is a 23 year old Gomeroi Artist from Maroubra in South Sydney, Bidjigal Land. He has an innate gift for storytelling and connecting with young people. That makes Kobie Dee one of the exciting new voices in Australian Hip Hop.
Kobie signed to Bad Apples Music in 2019 and has performed alongside artists including Briggs, Jessica Mauboy, Nooky and Barkaa as part of Yabun, Sydney Festival and at the Bad Apples House Party at the Sydney Opera House.
As an artist, Kobie deeply engages in his community through performance and community work, and his passion for his culture and people is inspiring new generations.
View this post on Instagram
It took Kobie a lot to get to where he is today.
"It's been a roller-coaster… There's been so many times I could have died, or I could have been in jail. And I think I have survived so much that whatever gets thrown at me now, I feel like I can get through it," Kobie told Triple J.
Kobie comes with commendations from Australia's biggest names in rap, namely Briggs.
"Kobie is a rapper's rapper; not at all discounting his appeal to a wider audience which is constantly growing – but he has the fundamentals of the OG's. His flow is effortless and honest, his art is steeped in his identity and connection with his culture. Kobie's already great, and we are only going to see him get better."
Whether it's organising events, his dreams of making a studio in the area or just connecting with the next generation and telling his story, Kobie's commitment to his community is real. And it hits extra close to home now that he's a father to his nearly two-year-old daughter.
About WEAVE
Weave Youth & Community Services is a Not-For-Profit organisation that provides a range of support to children, young people, women and families experiencing complex social issues: Mental health and substance use challenges, homelessness, domestic and family violence, contact with the criminal justice system, early intervention and prevention for children and access to opportunities that provide social inclusion. Weave has been operating for 45 years and the organisation's purpose is to empower people to change their own lives.
Located at Coral Sea Park in Maroubra, the event will kick off at 3pm and finish at 7pm.