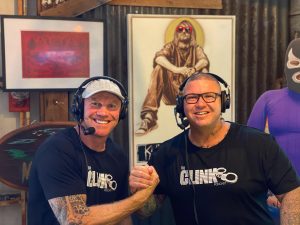 This week on The Clink, host Brent Simpson takes his turn at telling the story of his redemption.
The ex-bikie enforcer and father of four is interviewed by his producer, adding his voice to the stories men taking back their lives.
Simpson lives with Type 2 Bipolar disorder. He rode a bike from the Gold Coast to Perth to raise awareness for mental illness.
"I want to be a platform to give people a true insight first hand to the stories of some of Australia's most known professional criminals, athletes … people who have hit the absolute rock bottom or had to go through things most people would never experience," Simpson told the Courier-Mail.
A road to redemption
Brent Simpson was physically and sexually abused growing up in housing commission communities. Simpson committed his first robbery at 12, holding up three people at a Darling Harbour ATM.
"I'd been living on the street, I had no family, no home … it was purely survival," he told the Courier Mail, admitting he considered joining outlaw bikie gangs as a way of life.
After spending most of his life on the street, the brotherhood that a bikie gang offered seemed like paradise.
Since his release, Simpson started a charity Heavy Hiterz, and rode his pushbike from Gold Coast to Perth to raise awareness for mental illness.
You can find out more about Brent's journey on The Clink, available on Apple podcasts, Spotify or wherever you get your podcasts.