A 17-year-old Aboriginal teenager was strip-searched in Hobart CBD, with her clothes cut off by Tasmania Police.
The teenager was stopped by police after trying to catch a bus home, as strict bail conditions prevented her from entering the city centre.
Spokeswoman for the Tasmanian Aboriginal Centre Nala Mansell said the teenager was left 'shaken and traumatised' over the forced strip search after she refused to comply with requests to remove her clothing.
"They took her into the lockup and told her she had to take her clothes off in front of a group of police who were there," she said.
"When she refused they restrained her and cut her clothes off."
Search complied with Tasmania Police procedure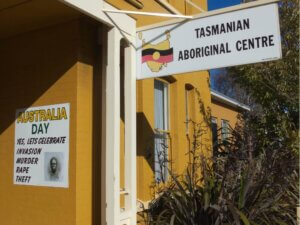 A spokesperson for the Tasmanian Government told NITV that the incident didn't breach Police procedures.
"They were subject to a personal search to ensure the safety of the individual and others. The search was conducted in accordance with all applicable Tasmania Prison Service (TPS) policies and procedures," they said in a statement.
The Tasmanian Opposition is urging an independent inquiry into the strip search of the teenager.
"They held her down and cut her clothes from her body – It is disgusting and a complete violation of the rights of children and young people," Ms Mansell stated.
"Our people have a long standing history of distrust with the police and this just further destroys any type of relationship."
Tasmanian Labor MP Jen Butler stated that she was deeply disturbed by the revelations.
"This is simply not acceptable in modern Tasmania and it undermines all the good work of other police officers.
Children and young people should not be strip searched at all and the State government should step in, according to Nala Mansell.
"We're calling on the Government to put in some type of measure to make sure that those recommendations are adhered to and that the number of children being stripped searched in custody is at a level zero." she said.
If you have been strip searched by Tasmania Police, contact O'Brien Criminal & Civil Solicitors on 02 9261 4281 or