Do you need a Criminal Defence Lawyer?
O'Brien Criminal and Civil Solicitors provide cost-effective legal advice for criminal cases. If you are charged with a criminal offence we can advise you on your case and help you obtain the best result. Our solicitors are experienced trial advocates meaning that we specialise in handling cases across a variety of courts and criminal offences.
Click on the headings below to read more about the criminal defence services we provide.
We have assisted clients in successfully appealing their sentence and/or conviction. This includes a number of quashed convictions in the NSW Court of Criminal Appeal. View our case studies here.
Our lawyers regularly present bail applications in the Local, District and Supreme courts throughout Sydney and NSW. They are extremely familiar with the bail application process, and will be able to assist you in yours.
If somebody is seeking an AVO against you, you should seek legal advice from one of our lawyers. They will be able to advise you on the options available to you, including defending you against the AVO application and seeking to have it dismissed.
If you are concerned about getting a criminal conviction for an offence that you have been charged with, speak to our criminal lawyers about the prospects of avoiding a conviction under a 'Section 10' order.
If you suffered from a mental illness, mental condition or cognitive impairment at the time of committing an offence, you may be able to have the matter dismissed by way of a 'Section 32' mental health order. We can assist you in this application.
If you have been arrested, or the police just want to talk to you in relation to an alleged crime, we can provide you with advice and representation at the police station to safeguard your interests and your rights. This may include obtaining police bail.
Our lawyers frequently appear at the State Parole Authority to argue for prisoners to be paroled as soon as they are eligible to be released.
We provide representation for people who have been called to attend a coronial inquests including the family of the deceased, and others who may have their interests adversely affected or be subjected to criticism during the course of the proceedings.
Why Choose O'Brien Criminal & Civil Solicitors?
1. Full-Service Criminal Defence Firm
O'Brien Criminal & Civil Solicitors is a full-service criminal defence law firm meaning that we provide legal advice on both criminal and civil law. After the completion of your criminal case, we can continue to represent you in your civil matter (if one exists). We have represented many clients in their criminal matters and then proceeded to assist them in making a civil claim against the police for unlawful arrest and false imprisonment, or suing a publisher for defamation.
2.Competitive Costs
Your first consultation with one of our criminal lawyers is free. This is your opportunity to speak to us about your case and for us to discuss with you what your options are. If you choose to proceed with our services we will provide you with a cost agreement that sets out your legal fees. O'Brien Criminal and Civil Solicitors provides cost-effective and professional legal advice compared with other law firms. In some instances, we offer reduced fees or pro bono services at the discretion of our Principal. We can also assist you in applying for Legal Aid if you are eligible. Speak to us if you have concerns regarding your ability to pay your legal fees and we can discuss the possibility of accommodating your circumstances.
3. Experienced Team of Lawyers
Our criminal lawyers have handled cases in courts across NSW at Local Courts, District Courts and the NSW Court of Criminal Appeal. They have a wealth of experience in assisting clients with bail applications, trials, sentencing hearings and appeals to name a few.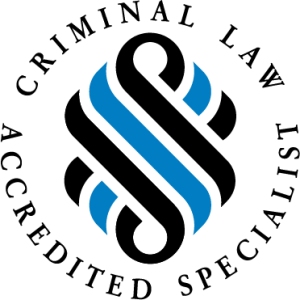 Our team includes Accredited Specialists in Criminal Law.
Specialist Accreditation is a structured peer to peer assessment process enabling legal practitioners to be recognised for their expertise. To be accredited specialists must pass a series of meticulous assessments on both legal knowledge and its application in practice. To retain their accreditation specialists must undertake significant additional professional development in their area of expertise each year.
4. Our Trauma-Informed Approach to Legal Practice
O'Brien Criminal and Civil Solicitors utilises a trauma-informed lawyering approach when interacting with our clients. We understand that you have dealt with traumatic events and that engaging with authorities and courts is a stressful experience that might re-traumatise you. For this reason we are sensitive to your mental and emotional needs and will assist you in an appropriate manner. Read more about our thoughts on trauma-informed lawyering.
We have a vast number of case studies where we have acted successfully for clients in criminal cases.
Contact O'Brien Criminal & Civil Solicitors
Let O'Brien Criminal & Civil Solicitors assist you with your case today.
Contact us on (02) 9261 4281 to set up a free appointment with our expert criminal defence lawyers in our Sydney office.