The 25 protestors arrested and charged at last year's International Mining and Resources Conference (IMARC) are calling for support to have their charges dropped.
In October last year, the protestors were arrested and charged with multiple offences including;
unlawful assembly,
besetting premises, and
incitement.
The protesters were arrested while they exercised their civil liberties, attempting to defend the environment and Indigenous rights. We stand by these protestors as they fight for authorities to drop their charges.
Some of the worst 'climate criminals' gather at IMARC
IMARC is an annual gathering of some of the worst climate offenders including BHP, Glencore, Anglo American, Rio Tinto, Chinese State Coal and more.
The companies represented at the 2019 conference account for 20 per cent of global emissions. 
All over the world, these companies have been involved in projects which amount to theft of Indigenous land. BHP's uranium mine, the second biggest in the world, sits on Indigenous land. This mine was strongly opposed by local Kokatha and Arabunna Aboriginal people.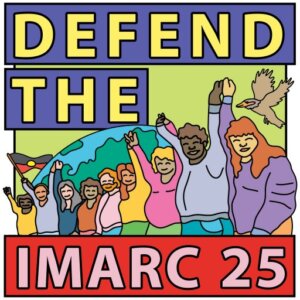 Earlier this year, Rio Tinto blasted through the Juukan Gorge Caves. This is an ancient cultural site in the Pilbara region of Western Australia.
The protesters in 2019 demanded climate justice and that these corporations be held to account, however they were the ones that ended up reprimanded.
Victoria Police forcefully broke up the protests, arresting dozens of people and ultimately charging 25.
Join O'Brien Criminal & Civil Solicitors in signing the statement.