The Clink has returned in full swing for season three of the well-received podcast.
Chris "tatted strength" Luera kicks off the season alongside host Brent Simpson.
The Californian has spent many years behind bars. From gang life and drug abuse to competing for glory in fitness, Luera has risen to the top of his fitness game as a world champion in callisthenics.
Born into drugs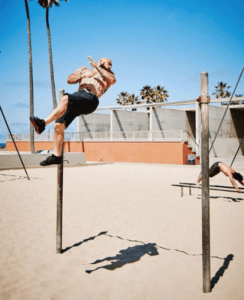 Chris Luera was born into a family of drug-addicted parents. He was surrounded by Child Services and foster homes from day one.
At 18 months old, his birth mother died and his biological father couldn't cope.
Chris was adopted by his great aunt and uncle and they became family. Despite his loving environment, Chris began experimenting with drugs at a very young age.
He was arrested at age 11, smoking crack cocaine by age 13 and his life fell apart. Surrounded by gangs, crime and meth addiction, Luera bounced between prison sentences.
After many attempts to turn his life around, Chris was finally able to flick the switch after turning to the gym as an outlet. Grieving for his recently passed adoptive mother, Chris discovered callisthenics.
He began training at the famous Venice Beach in Los Angeles and soon become a 3x Middleweight World Champion and WCO Master Trainer.
You can hear more about Luera's rise to recovery on this weeks episode of The Clink, on Apple podcasts, Spotify or wherever you get your podcasts.