This year Invasion Day rallies are set to push on despite COVID-19 and an immense heatwave in the east.
Face masks will be mandatory across all events and protests will be divided into smaller groups to comply with social distancing.
Sydney Invasion Day Events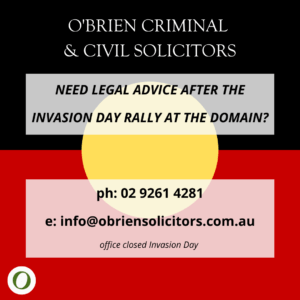 A vigil will be held at Barangaroo Reserve from dusk till dawn to reflect on the impact of colonisation. The family-friendly event is hosted by the Sydney Festival however there's currently a wait list for attendance due to coronavirus.
The WugulOra smoking ceremony will be held at Barangaroo at 7:30am and live-streamed on the ABC. The ceremony includes the singing of the Australian national anthem in both English and Eora which never fails to raise goosebumps.
Yabun is sadly closed to the public this year however you can watch the event and participate online.
The Invasion Day Rally kicks off at 9am in the Djarrbarrgalli (Domain) and is expected to go until 1pm.
Currently, the COVID-19 public health restrictions cap protests at a max of 500 people. Currently, almost 3,000 have clicked going on the Facebook Event.
Organisers will likely break people up into smaller groups to march.
Please listen to organisers and respect social distancing protocols to ensure the safety of yourself and others.
It's also going to be HOT. The forecast indicates a maximum of 35 degrees with a UV index of 11+ (extreme).
Your legal rights
NSW Police have the power to issue fines if you're found to be in violation of the COVID-19 public health order. Currently, the public health order is a maximum of 500 people per protest.
If an officer gives you a direction to 'move along' you should obey with these directions. If you do not obey, the Police may obtain your details and give you a ticket for failure to comply with move-on orders. They may also arrest you in certain circumstances.
If an officer arrests you, do not resist arrest (this includes being a dead weight). This can make things worse and you could potentially be charged with resist arrest or assault police. Seek legal advice as soon as you are taken into custody.
Film, film, film! Filming police in a public place is allowed and we encourage it. Police cannot stop you from recording and they cannot take your filming equipment, delete recordings or request someone to delete their recording.
If you're injured, go get medical help. Getting treated is the number one priority. Get your Doctor to record your injuries and take photos. Then go get some legal advice!
See this article for more advice on dealing with police at demonstrations and protest rallies.
What to bring to the march:
Face mask
hand sanitiser
signs/placards
broad-brimmed hat
sun glasses
sunscreen and zinc
lots of water!
comfy shoes
snacks
Do not attend any events if you are feeling the slightest bit unwell or are immunocompromised.