NSW Police officers have shot dead a 45-year-old Indigenous man following a "physical confrontation" on Tuesday morning.
Four officers were attending a home in Seven Hills in Sydney's North-West to locate a man wanted on an outstanding arrest warrant.
Indigenous man shot by police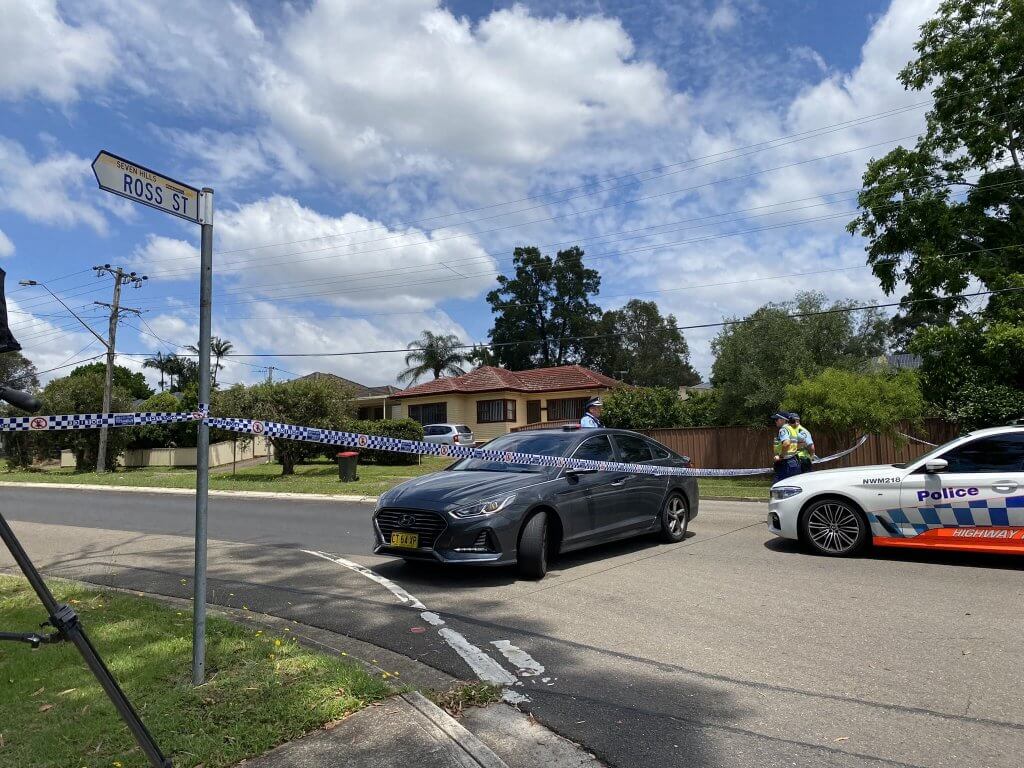 Police have alleged the man was wielding a knife and an axe, when four officers "let out a number of shots".
Acting assistant commissioner Julie Boon told reporters the man "collapsed" after being shot.
"Officers let out a number of shots [and] unfortunately the man collapsed. Officers performed CPR but were unable to revive the man.
"A critical incident investigation team has been formed and will investigate the circumstances surrounding the man's death."
Boon refused to give any further details on the incident, including how many shots were fired, which officer fired the shots and the nature of the confrontation.
No police officers suffered injuries in the incident.
"Only bullets for us, no taser"
Family members gathered outside the police tape, grieving and criticising the police. According to reporters at the scene, they could be heard saying it was "only bullets for us, no taser".
Justine, a neighbour, was emotional at the scene and said she knew the victim and described him to The Guardian as a "nice and calm man".
"I knew him for three years, he'd come and visit his auntie here every now and then. I spoke to him last night, and there didn't seem to be anything wrong," she said. "I heard the gunshots and I heard the Careflight, but I wasn't sure what happened."
Dale McPherson, another neighbour who knew the family, told the ABC they were "lovely people". "I don't want anyone to be shot but you don't know what the circumstances were."
Locals had gathered to watch on, with one commenting he didn't feel police made the neighbourhood a safe area. "Years of police training mean these kinds of things shouldn't happen," he said, requesting no use of his name.
Indigenous man shot not only recent death in custody
In another tragedy, a 26-year-old Indigenous man was found in his cell at Shortland Correctional Centre in Cessnock on Sunday.
Corrective Services NSW confirmed he was pronounced dead in his cell.
"All deaths in custody are subject to a coronial inquest," they said in a statement.
The man passed just a day before the new facility officially opened.
Prison chaplain Reverend Di Langham said the death of the 26-year-old man was a heavy loss for the community.
"It is with a heavy heart that I share with you that yesterday I was called into Shortland to another Aboriginal death in custody," Reverend Langham said.
"A 26-year-old man, another of our young men, has taken his own life.
The Boandik/Barkindji woman urged those present to consider the importance of the jail's Indigenous inmates.
"I would like to remind everyone here, as I remind the Aboriginal men in this centre, that these men are our future elders," Reverend Langham said.
"Whatever they have done and however they have been treated, the way they respond to their time in here, will be the way our future elders, will be moulded."
Bow & Arrow wielding man taken safely away
Meanwhile in Melbourne, a man who stood on the roof of his car outside Victorian Parliament House wielding a bow and arrow has been safely arrested.
The 18-year-old man was holding the weapon at the intersection of Spring Street and Bourke Street in Melbourne CBD yesterday.
Police took the bow from the man and led him off the car, arresting him.
He was then taken to the hospital for assessment.
The exact circumstances surrounding the incident are under investigation.
Vicpol arrest a bloke with a crossbow out the front of parliament as cookers camped on the steps scream obscenities. pic.twitter.com/HLTc30YWLs

— Bothering Conspiracy Theorists (@BTheorists) November 8, 2021