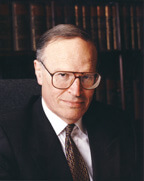 Former High Court Justice Dyson Heydon has had accusations of inappropriate behaviour levelled at him by four more former staff.
Back in June of this year, an independent inquiry substantiated claims from six former Court staff members that they suffered sexual harassment at the hands of the former justice. Heydon denied all complaints.
Subsequently, last week, the High Court Chief Executive Philippa Lynch revealed that eight former associates and one former staff member had also come forward to speak to Vivienne Thom, the woman who conducted the initial review.
Of those nine staff, some offered information relating to the original six complaints, and four disclosed new complaints.
The new complainants wanted the information to the provided to the court but did not want to make formal complaints, a High Court spokesman told The Guardian.
The ACT's Director of Public Prosecutions, Shane Drumgold, has referred allegations against Heydon to ACT policing for investigation.
Courts reviewing how they handle complaints
After initial allegations came out against Heydon, the Chief Justice of the NSW Supreme Court, Tom Bathurst, wrote to staff stating that NSW would introduce a new policy to deal with sexual harassment.
In an email to all judges' staff , the NSW Supreme Court stated that "In light of recent events, the Supreme Court is aware of the need for a sexual harassment policy."
"Such a policy is currently being finalised which will adopt the measures identified by Chief Justice of the High Court, Susan Kiefel, in her statement yesterday, amongst other measures," the email continued.
She also stated that she would create a new sexual harassment policy for the personal staff of judges and that she was "ashamed that this could have happened at the High Court of Australia".
However, Heydon has denied all claims. "Our client says that if any conduct of his has caused offence, that result was inadvertent and unintended, and he apologises for any offence caused," a statement from his lawyers read.
A judge's associate – a sought-after role
Judge's associates conduct research and administrative tasks for judges and work very closely with them. Often they can accompany them to functions and on travel, and when district court judges go on circuit. The book Eggshell Skull by Bri Lee highlights the close relationship that an associate develops with their judge.
It's a highly sought-after role, especially for those who envision themselves at the bar later in life. However, the nature of the role could potentially lead victims to not make complaints. This could be in fear that they may lose the position or the relationships with those who may empower their careers.
If you've been affected by sexual harassment in the workplace, contact O'Brien Criminal & Civil Solicitors for a free consultation to see if we are able to assist you.