Adults caught using or possessing cannabis are more likely to be charged, rather than cautioned, in Western Sydney than in affluent areas of Sydney.
The data, taken over the last five years, exhibits how NSW Police using their discretion can result in more charges for those in poorer suburbs, for the exact same offences.
In Sydney's Northern Beaches, 75 per cent of those caught with cannabis were issued a warning – a vast distinction between the 36 per cent of those in Penrith.
Cannabis cautioning system
NSW Police have the option to use the Cannabis Cautioning Scheme for drug possession in small quantities.
The Scheme can't apply to people who have prior convictions for drug offences, or violent or sexual offences and only two cautions can be given per person.
The caution enables Police to refer people to Alcohol and Drug Information Service rather than issuing fines or pressing charges.
A Cannabis class war
Greens MP David Shoebridge emphasises that this data proves "postcode justice" in NSW.
"If you live in the wealthy parts of Sydney, you're vastly more likely to get a cannabis caution," he said.
"Policing of cannabis is really a class war – the poorer you are the more likely it is you will be taken to court by the police."
Those located in the Hunter are over twice as likely to be charged as opposed to being cautioned. Twenty-four (24) per cent of people caught with cannabis in the Upper Hunter Shire compared to 75 per cent in North Sydney, and 66 per cent in Byron.
Police discretion benefits the wealthy, non-Indigenous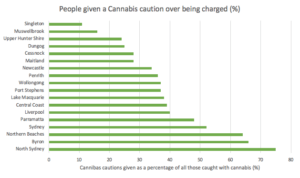 BOCSAR data also revealed in 2017 that Police were four times more likely to issue cautions to non-Indigenous people. The impact of being charged and landing in the criminal justice system as an Indigenous person can be devastating.
Once charged, Indigenous Australians often receive harsher sentences for cannabis conviction, compared with non-Indigenous Australians. The conviction rate is the same for both groups, however, the outcome of the sentences varies.
Drug decriminalisation is the future
Will Tregnoning, Executive Director of Unharm, said cannabis possession should not be criminalised at all.
"There's a huge global movement away from criminalising cannabis," he said.
"This is a substance that is entirely manageable. Most people who use cannabis use it infrequently. It's a minor part of their lives. Many successful people have used cannabis. The idea that there's some kind of public health benefit in criminalising its use is ridiculous."
He said a criminal record for cannabis use "stays with you for life".
"It's like a ball and chain around your leg – all for possession of a plant that should be legal. Drug use happens right through society, but it's the least powerful who end up being the targets."
"There's better people in Sydney" says police officer
A NSW Police officer told the Newcastle Herald that there were "worse crims" north of Sydney.
"The police have to deal with a lot in those areas. There's better people in Sydney," he said.
He believed the Hunter and Central Coast were receiving much fewer cautions because those caught with cannabis had already received two cautions or had prior convictions.
Mr Shoebridge disagreed and didn't believe that this could account for such a vast difference between areas.
"Policing cannabis has failed. What it ends up delivering is serious and random harm as people are taken to court and prosecuted with all the social and economic damage that causes.
"It's time to listen to the evidence, learn from overseas experience and legalise cannabis."
If you have been charged with possession of cannabis, contact O'Brien Criminal & Civil Solicitors on 02 9261 4281 or .