Fatal police shootings in Australia are at an all-time high, according to data from the Australian Institute of Criminology (AIC).
Shootings rose by 78 per cent between 2018-19 and 2019-20 alone.
Critics have have raised concerns as to the over-militarisation of the police force, with deadly results.
Fatal police shootings at all-time high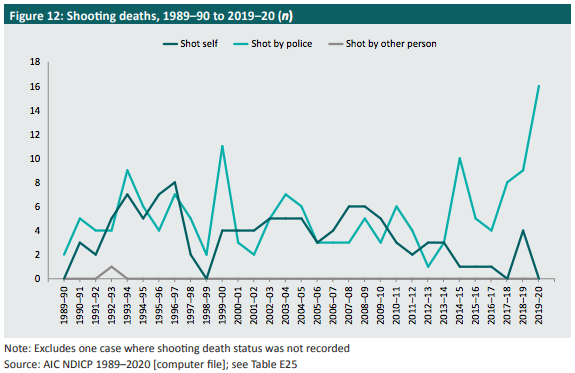 There were 16 fatal police shootings in the 2019-20 reporting period. This is the highest number of shootings since reporting began in 1989.
Over 12 per cent of those fatally shot were Indigenous. This is despite that group only making up approximately 3.3 per cent of the population.
Of the 24 deaths in police custody between 2019 to 2020, 16 were attributable to police shootings.
Two of those fatally shot were Indigenous. The background of three others was not stated or unknown.
A police officer is on trial over the death of Yamatji mother 'JC' in the West Australian town of Geraldton. JC was fatally shot while allegedly armed with a knife in 2019.
In the Northern Territory, police officer Zachary Rolfe has been charged with the shooting death of Warlpiri man Kumanjayi Walker in Yuendumu the same year.
Since record-keeping began in 1989, Australian police have shot at least 164 people dead.
Militarisation of the police
Concern has increased over the years as to the encroaching militarisation of the police force.
Following in the US's footsteps, Australian police are adding more gear and more weapons to their purses.
Additionally, COVID-19 policing has also encouraged a move away from community engagement to enforcing health directives with little room for tolerance.
New South Wales Police Commissioner Mick Fuller instructed his staff to move to a more enforcement-focused approach to COVID health order restrictions.
I am asking you to put community policing to the side for a short period of time […]
Victoria Police deployed a Bearcat armoured vehicle in response to an anti-lockdown protest. This is despite the claim these vehicles would only find use in high-risk incidents such as sieges or the apprehension of armed offenders.
The Special Operations Group (SOG) expands their fleet with these new BearCats to respond to high-risk incidents such as sieges or the apprehension of armed offenders. The new vehicles have high ballistic protection, a V8 turbo diesel engine and an off-road capability. #VicPol pic.twitter.com/BHeLfVhJ1K

— Victoria Police (@VictoriaPolice) July 29, 2018
Disproportionately targetting Indigenous Australians
Waanyi woman and NATSILS executive officer Jamie McConnachie told SBS News that she's frightened by the findings of the AIC. Particularly due to the COVID-19 pandemic where police are continually enforcing health orders.
"The use of police force and brutality by way of these shootings is a huge concern for our communities," Ms McConnachie said.
"During the pandemic, police have disproportionately targeted Aboriginal and Torres Strait Islander people."
Ms McConnachie said the latest figures on fatal police shootings strengthen NATSILS' case for governments to consider a public health approach opposed to policing.
"That data is further proof that Australian governments are criminalising social inequalities during this pandemic," she said.
"We should be looking at the pandemic as an opportunity to reimagine the criminal justice system and end these injustices so that we'll all be safe."