First Nations brand Clothing The Gap has been ordered to rebrand after a two-year legal battle with US clothing giant, GAP.
The locally-run social enterprise based in Naarm ( the Wurundjeri word for Melbourne) has added an 'S' to the end of their brand to avoid confusion with the US company.
Closing the Gap on the legal battle
In 2019, the label moved to trademark the term "Clothing The Gap", a clear play on words for the term "closing the gap".
Closing the Gap is a national agreement in which Australian Governments work with First Nations people and communities to overcome the inequality experienced by Aboriginal and Torres Strait Islander people.  From this the intent is to achieve life outcomes equal to all Australians.
The American clothing giant sent a cease and desist request to the First Nations brand shortly after it filed the trade mark.
Co-founder, Gunditjmara woman Laura Thompson, told ABC News that they were surprised to receive the letter and hadn't even thought of the American brand when coming up with their label.
After a lengthy battle with the American company – which doesn't have any shopfront stores in Australia anymore – the Trade Mark Tribunal ordered the First Nations brand by to change its name.
"When we registered Clothing The Gap with the trademark through Spark Health, I guess we thought it was a play on words with closing the gap," Ms Thompson said.
"In the background, we've had uncertainty around our brand for the last two years; we've been continuing to call ourselves Clothing The Gap, knowing very well that we're going to have to rebrand at some stage."
A more important fight ahead
The brand has recognised the important fights which lie ahead. These are namely the ones that will actually be able to bring equality and justice to First Nations people, such as addressing deaths in custody.
"We instead chose to negotiate with GAP so that we could focus our energy on what really mattered – advocating for Aboriginal rights, educating, elevating the voices Indigenous people and creating social change through fashion," Clothing the Gaps stated on their website.
Subsequently, the brand has accepted the judge's ruling and the name will be changed to "Clothing The Gaps". This has been given the OK by the American brand.
The Tribunal awarded legal costs to GAP, which meant they were able to claim their legal costs from the First Nations brand. It's important to note that GAP did not seek costs from the social enterprise.
The brand has until July 31 to sell all original stock that carries the old name.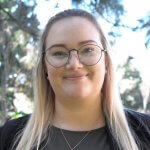 Sarah is a civil solicitor who primarily practices in defamation, intentional torts against police, privacy and harassment.