Between June 2020 and March 2021, councils issued almost 1.1 million parking fines, totalling a mammoth $16.89 million in revenue for local governments.
The City of Sydney handed out 230,772 fines alone, with the Inner West Council area handing our more than 92,000 tickets.
The data was compiled by NRMA. It evidences the need for technology to identify and pay for parking in Sydney.
"Local parking rules are often confusing, constantly changing, and the methods for paying for parking can be archaic," NRMA spokesman Peter Khoury said.
Mr Khoury noted that the introduction of Opal cards "decreased fare evasion because it's simply more convenient to do the right thing".
Parking rules confusing the everyday person
If you've ever attempted to park in Sydney city, you'll be aware of the complex reading of multiple signs to ensure you're able to park your vehicle legally.
Jesus Sydney take a chill pill pic.twitter.com/uJwfOhGFZH

— Dean Nye (@Dean_Nye) August 11, 2018
So, where can you park?
You must not stop or park your vehicle:
alongside another parked vehicle (double park)
across a driveway, unless you're picking up or dropping off passengers
on a median strip, unless a sign says you can
on a traffic island
within an intersection
on a children's crossing or pedestrian crossing
across a railway level crossing
on footpaths and nature strips, unless a sign says you can
in a slip lane, unless a sign says you can.
Your parked vehicle must not block the flow of traffic or become a danger to other road users.
There is a difference between parking and stopping
If there's a "no parking" sign, you obviously can't park there. However, you can stop for less than 2 minutes if you stay within 3m of your vehicle and you're dropping or picking up passengers or loading or unloading items.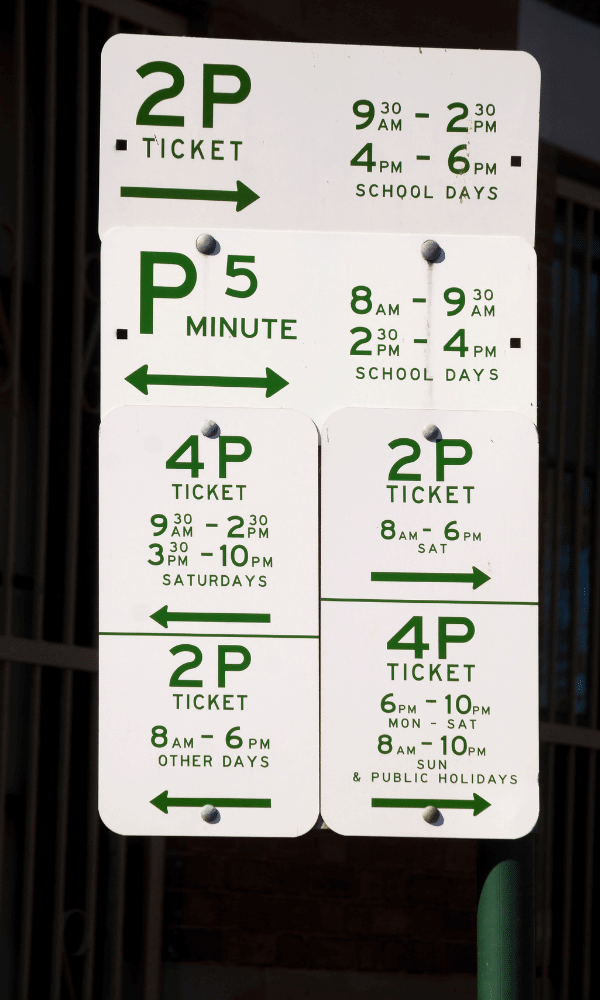 "No stopping" means just that – no stopping! Sometimes these areas are marked with an unbroken yellow line on the edge of the road.
Here are some other places you can and cannot park (unless a sign specifically says you can!)
Bus Stops – You must not park within 20m before, or 10m after a bus stop
Intersections – You must not park within 20m of an intersection with traffic lights or within 10m of an intersection without traffic lights (unless it's a T-intersection and you're parking along the continuous bit of road)
Crossings – You must not park within 20m before, and 10m after a crossing
Traffic lights (not intersection) – You must not stop or park within 10m before and 3m after traffic lights for pedestrians or bicycles
Rail level crossing – you must not park 20m before and after a railway crossing
Some more places you cannot park at all
Double dividing lines – you cannot park within 3m of any double dividing lines
Fire hydrants – you cannot park within 1m of a fire hydrant, indicator or fire plug indicator
On or near a crest or curve – You must not stop or park on a hill or a curve outside a built‑up area, unless drivers are able to see your vehicle from at least 100m away. If there's a parking sign, follow the instructions shown.
Australia Post box – You must not park within 3m of a letter box but you can stop to post mail or drop off or pick up passengers
Taxi Zone – Not unless you're a taxi!
Bus Zone – Not unless you're a bus!
Loading Zone – Vehicles primarily designed to carry goods can stop in loading zone to pick up or drop off goods – this does not include personal items or shopping. There's a 15-minute time limits for wagons & tricycles and 30 minutes for trucks and other vehicles. However, any vehicle can stop briefly here to pick up or drop off passengers.
How much does a parking fine cost in NSW?
Most parking infringements carry a penalty of a fine, however some carry demerit points too. Here are some parking offences and their subsequent penalties in the Road Rules 2014 (NSW).
Note: increased fines/demerit points may apply for offences within school zones.
LAW
DESCRIPTION
PENALTY
FINE
DEMERITS
Rule 167
Disobey no stopping sign
$272
–
Rule 168(1)
Disobey no parking sign
$116
–
Rule 170(2)
Stop within 20m of intersection w traffic lights
$349
2
Rule 178
Stop in emergency stopping lane
272
–
Rule 179(2)(b)
Stop in loading zone longer than indicated
194
–
Rule 182(1)
Stop in taxi zone
194
–
Rule 183(1)
Stop in bus zone
272
–
Rule 193(1)
Stop on crest/curve outside built-up area
116
–
Rule 207-1(12)
Park for longer than allowed by metered signs
116
–
Cl 76*a)*
Display article/thing falsely resembling parking coupon
272
–
* RT (Gen) Reg 2013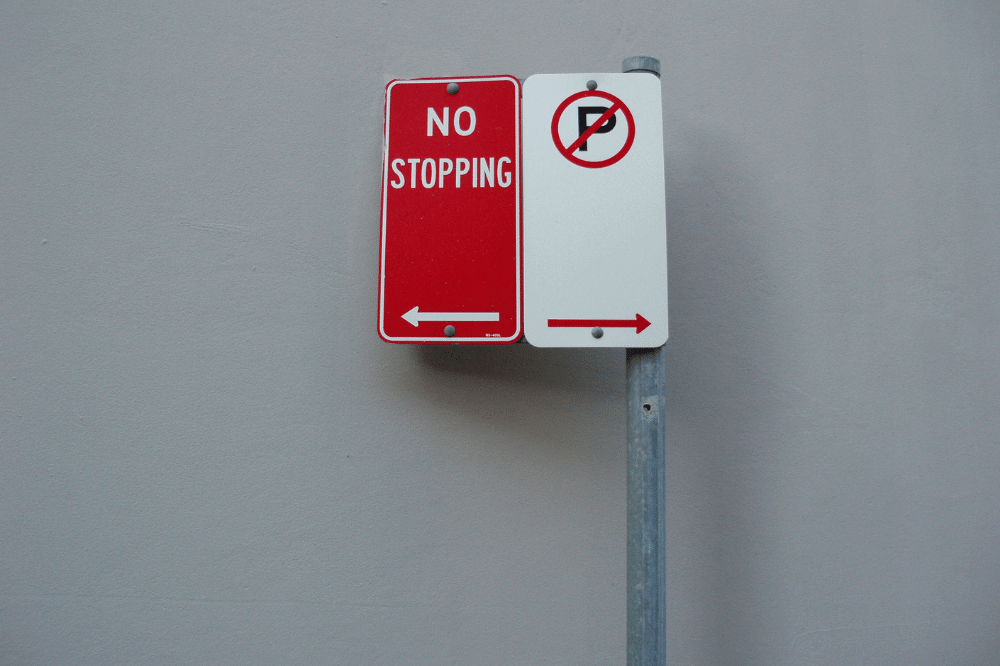 Got a parking fine? Here's how you can contest it
Request a review
The first thing to do is to request a review of the fine.
You can request a review of your penalty notice if:
you believe someone has made a mistake, or
there were special circumstances that led to the offence.
The review may lead to the penalty continuing to stand, your being let-off with a caution, or the cancellation of the penalty.
Contact Revenue NSW and include:
name, address and contact details including email or phone number
if the payment was made by card, include the first 6 and last 4 digits of the card number to confirm the payment (this is for pre-paid parking)
clear copy of the fine (marked penalty infringement notice at the top) including date and infringement number
identification number displayed on the meter
date and time you attempted to use the meter and your vehicle registration number
brief description of the problem you encountered
reference number supplied by the parking meter customer service centre (if available)
any other supporting documents, for example, parking permit, parking meter ticket.
If your review is unsuccessful, you can then request the matter be heard in court.
Have the matter heard in court
Go to myPenalty and complete the online application process. To login, you'll need to enter the reference number on your penalty or infringement notice and the date of the offence.
If you've lost your notice, contact Revenue NSW or complete the enquiry form.
Once they processed your request to go to court, they will send the following documents to you:
Court Attendance Notice (CAN)
The CAN tells you the place, time and date of the hearing which will be at the court closest to where the offence occurred. If this is not convenient, you can apply to the selected court to have the hearing moved to another court location. Visit the Local Courts website for a list of locations.
Written Notice of Pleading
You will be asked to plead either 'guilty' or 'not guilty'. You can complete and send this notice to the court before your hearing or you can enter your plea at the hearing. If you're not sure what to do, we suggest you seek legal advice.
If you choose to plead not guilty, you will be given an additional hearing date.
You'll need to present your case at the hearing. If going to court, it's highly recommended that you obtain legal representation.
The authority that issued your fine will present their case too and may call on witnesses and produce other evidence.
After hearing, there will be one of three decisions made:
Guilty – You will need to pay a penalty, which the court will set. You will have to pay court costs and may also have to pay the prosecutors' professional costs. You will lose any applicable demerit points.
Guilty, no conviction recorded – The court may find you guilty but not make you pay a fine. You will have to pay court costs and may also have to pay the prosecutors' professional costs. The offence will appear on your driving record but you won't lose any applicable demerit points.
Not guilty – You won't need to pay a fine or lose demerit points, nor will you have to pay costs.
If you have a visa, it's recommended that you seek legal advice before electing to go to court, as a recorded conviction could affect your status.
If you've received a parking fine or other traffic infringement and wish to contest the matter in court, contact O'Brien Criminal & Civil Solicitors for a free consultation.