The NSW Government has identified a suburb near Parramatta in Sydney's west as the preferred site for the city's next major jail.
Heavy industry has dominated the suburb of Camellia for decades. The new plans to build a prison could undermine attempts to create jobs and new homes, according to council and business groups.
Camellia sits on the south bank of the Parramatta River, and has been overrun with industrial contamination.
Parramatta Lord Mayor Bob Dwyer said that the council will be "very disappointed" if the prison was built at Camellia.
"We have got our own plans for Camellia in terms of housing about 20,000 people next to the river and putting advanced manufacturing in that area," he told the Sydney Morning Herald. "That area on the river is the last part of the Parramatta River that hasn't been cleaned up."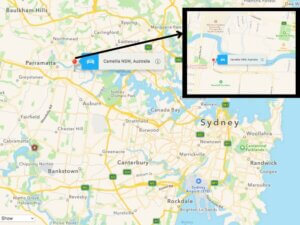 The council has already created a vision for the ear, including a town centre, light rail stop and housing for 100,000 people by 2036.
"We have got a very clear vision. We want that area [at Camellia] cleaned up so we can house people. By putting a jail there, it throws everything into an unknown future," Dwyer said.
Labor planning spokesman Adam Searle said the government needed to "come clean" on its plans for a prison at Camellia so that the community could have an informed debate on the matter. "This is a complete departure from what the government has foreshadowed for Camellia and surrounds," he said.
Ironically, the Government has rejected a proposed Metro rail station for Camellia, as the contaminated ground may mean a health risk. Are they saying that what is not good enough for commuters is good enough for convicts?
A booming prison population
The NSW prison population has steadily increased over the past five years, rising from under 10,000 in 2013 to over 12,700 as of September last year.
Earlier this year, President of the Law Society of NSW Richard Harvey commented on the concerns over the rising numbers.
"The high prison population is putting significant pressure upon an already struggling system resulting in a substantial and continually increasing backlog in our courts and delays in justice – all at a time when our legal aid system is under increasing pressure," he said.
The constant increases in the NSW prison population have caused growing worries over increasing expenditure.
"The ongoing increases in the NSW prison population, as confirmed in these latest figures, coincide with a record investment in our state's prison," Mr Harvey said.
The need for early intervention and diversion programs are evident now more than ever.
"It's clear that instead of pouring money into the prisons, the NSW government needs to invest in early intervention strategies, better resource community-based health treatment such as drug and alcohol rehabilitation centres and introduce further reforms to better enable courts to impose alternatives to full-time imprisonment," Mr Harvey said.
"We also need a coordinated national response from Commonwealth, state and territory governments to address the over-representation of Indigenous people in the criminal justice system."