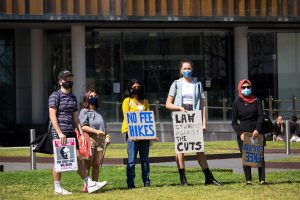 300 people can go to church but 19 can't protest in a park? Did I hear that correct?
The Health Minister Brad Hazzard has granted an exemption for 300 people to attend a priest ordination. The ordination will occur at St Mary's Cathedral on Saturday with people having to obey the social distancing guidelines, as you would expect.
Meanwhile, at the University of Sydney campus, protesters were fined and arrested.
The protest was against government and management cuts to jobs and funding at the University. Protesters wore masks and socially distanced as they protest outside, on the lawns and pavements of the University.
Protestors fined and arrested
The groups split up into less than 20 people per group and spread over the campus, to comply with public health orders.
"We were gathered in a group of 12 people, but the cops construed us as gathering in a group larger than 20 because there were other demonstrations of 19 people or less at other locations across the uni," protester Cooper Forsyth stated in a Facebook post.
Cooper was given a $1000 fine for his involvement in the protest. He was furious at the treatment that he received for his actions.
"…they got me alone and physically prevented concerned staff members from following us down an alleyway to see if I was alright."
Adam Adelpour was arrested by police under COVID-19 restrictions for attending the protest.
However protesters weren't in violation of the orders.
"The protest actions at Sydney University yesterday did not even breach COVID restrictions on gatherings, as protesters gathered in groups of less than 20 people, widely dispersed across campus," Adam stated.
"But police have made it clear they are determined to prevent demonstrations of any kind. This is an appalling attack on free speech and the right to demonstrate," Adam said.
Criminalising protests – a first step into demise
"Police have claimed the protest actions at Sydney University were 'unauthorised' but this simply shows their contempt for the law and the right to protest. Demonstrations in NSW are not required to be 'authorised' under the Crimes Act provisions unless participants want to march on the road and require protection from traffic infringement laws." The group said in a statement.
Adam was kept overnight, after refusing bail conditions that included a personal curfew and a complete ban from the University of Sydney.
Adam has been charged and will appear at Newtown Local Court on October 8. He faces an $11,000 fine or six months jail as a result of his attendance.
The police action against protests of 20 people came on the same day that NSW Premier Gladys Berejiklian foreshadowed plans to double the number of people allowed in sports stadiums to up to 40,000 each.
"We won't be silenced. They won't stop us protesting. We will not be bullied into submission," Cooper said.
If you have been arrested or fined as a result of a protest, contact O'Brien Criminal & Civil Solicitors on 02 9261 4281 or .