Talking with T – A podcast on Blackness
Civil liberties and First Nations advocate Taylah Gray has just launched a podcast entitled "Talking with T".
The Wiradjuri woman and final year law student was at the centre of the #blacklivesmatter movement in Newcastle after we fought against NSW Police in granting permission to protest in the city.
Taylah is living and working on the unceded lands of the Wonnarua people. Each episode is hosted from her spare bedroom.
Episode One: The power of an angry Black
"Nobody likes the angry black – yet these are the people who get the work done," states Taylah in the episode description.
The episode focuses on the stereotype of the "angry Black". Harnessing the words of Malcolm X, Taylah explores that channelling your anger can generate constructive action and results.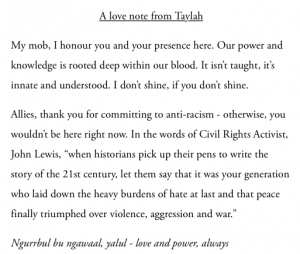 Head to the website www.talkingwitht.org (not currently available) to listen to episode one!