The Queensland Police Service (QPS) have disciplined a detective who mishandled a gang rape investigation, in which destruction of key evidence occurred.
Detective Senior Sergeant Chris Fenelon has been disciplined by the QPS, but the details of that discipline are unknown. This has prompted the victim's lawyer to call for intervention by the Queensland's Crime and Corruption Commission (CCC).
Eve* was allegedly brutally assaulted on her 21st birthday in Brisbane in 1995. Charges were only laid against the alleged perpetrators two years ago. Now 47, Eve is still fighting for justice.
The internal report shows that the detective spent only three days on the original investigation and allowed evidence including the victim's dress, underwear and a roll of film to go missing, and the destruction of a rape kit.
A maze of internal investigations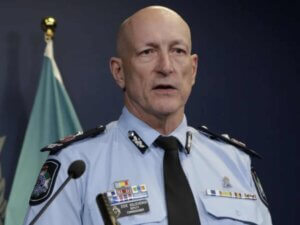 When delivering the findings to the victims' lawyers, Deputy Police Commissioner Steve Gollschewski stated that the matter had been "finalised and disciplinary action taken". He stated that he could not reveal any further information due to privacy and confidentiality.
Under the Crime and Corruption Act, however, police have to give details of the actions including the disciplinary action taken.
"Any confidentiality and privacy considerations can operate only in respect to and to the benefit of our client," Eve's lawyers said.
Back in 2016, Eve's complaints were dismissed by the internal investigation unit where the Senior Sergeant had a senior position within.
Eve told the ABC she was "beyond fed up" at the latest twist in the saga, the lack of information from police.
"Not only is it unreasonable, it's legally incorrect," Eve said.
Detective previously awarded a meritorious service medal
In October 2019, QPS stripped Senior Sergeant Fenelon of a meritorious service medal he received for his work including training sex crime investigators.
The medal was an "administrative error" as officers under investigation were ineligible to receive the awards.
The stripping of the medal prompted a political skirmish between then Queensland Opposition Leader Deb Frecklington and the Queensland Police Union.
Vice President of the Queensland Police Union of Employees Shane Prior slammed Frecklington in the Queensland Police Union Journal in December 2019.
"The unrelenting attacks Deb Frecklington has made over 2019 against Chris Fenelon, a very decent police officer and a person whom I am proud to stand with and call a friend, makes me as a police officer and most detectives I have spoken to really angry. "
Prior continues on to defend Senior Sergeant Fenelon.
"Chris Fenelon is a professional, honest and hardworking police officer who has done nothing wrong. Let me repeat, FENNO HAS DONE NOTHING WRONG. Fenno getting a medal was NOT a mistake despite Deb Frecklington trying on the typical politician trick of bashing police for votes."
Eve's lawyers are pushing to receive details of Senior Sergeant Fenelon's discipline.
If you need assistance with a claim against the Queensland Police, contact O'Brien Criminal & Civil Solicitors on 02 9261 4281 or