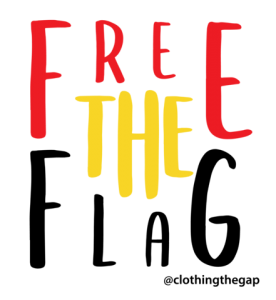 This weekend when you're watching the AFL Indigenous Round, you'll notice a glaring lack of Aboriginal flags on display.
Why is this? Well, it's a copyright issue.
A company called "WAM Clothing" has exclusive worldwide rights to use the flag on clothing. Meaning that the flag appearing on the AFL uniforms is a breach of copyright and WAM can sue the AFL (for a lot of money).
WAM Clothing is owned by two non-Indigenous people, one of whom was the owner of Birubi Art – the company that received a $2.3 million fine for selling fake Aboriginal art.
Harold Thomas, the designer of the flag in 1971 made copyright arrangements with WAM Clothing and Flagworld for worldwide exclusive use on clothing merchandise and flags respectively
Last year, the clothing company threatened legal action against the AFL and the NRL for using the flag.
WAM Clothing also sent a 'cease and desist' letter to an Indigenous-owned company "Clothing the Gap".
As a result, Clothing the Gap began a campaign entitled "Free the Flag". This campaign aims to pressure the Government into releasing the flag from copyright laws and into the hands of Aboriginal people. The Aboriginal flag is an official flag under Commonwealth law, however, this doesn't help in relation to copyright.
As former AFL star and Aboriginal man Tony Armstrong puts it, "[f]or Aboriginal people, the flag means everything. It is more than a flag — it is a symbol of pride, love and identity."
Minister for Indigenous Australians Ken Wyatt has urged fans to bring their own Aboriginal flags to make up for the missing flag on the field.
The Government has consulted with the Australian Copyright Council about the best way to proceed. Mr Wyatt also approached Harold Thomas directly to attempt to find a resolution.
How you can assist in the campaign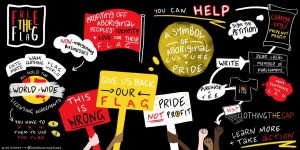 Sign the #PrideNotProfit petition here – it has 112,000 signatures and it's growing rapidly!
Write to your local Member of Parliament – template here.
Rep some Free the Flag merch here.
Raise awareness and have conversations!
Donate to the GoFund Me here
Use the Free the Flag logo instead of the flag – available here