When a lock down occurs, or stay-at-home orders are made, the NSW Court system is updated to minimise social contact.
NSW Local Court during a lock-down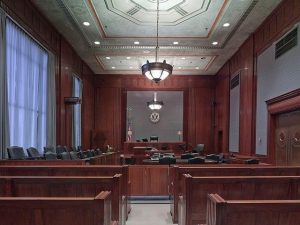 During the current stay-at-home period, the NSW Local Court is limiting people who need to attend the court in person in the Greater Sydney area. This means that any of the following don't need to attend court.
a party to a court proceeding (including accused) [unless for sentencing];
legal representatives;
witnesses;
support persons.
Outside of that region, only certain people are allowed to currently attend the courts, including:
a party in the proceedings;
legal representatives;
witnesses; and
support persons in certain circumstances.
If you're attending a court:
you must have not visited a hotspot or
had contact with a suspected or confirmed case in the last 14 days,
mustn't have any flu symptoms,
must wear a mask
and must adhere to social distancing.
Matters listed for mention or directions during the stay at home period
Any matters that are listed for a procedural mention within Greater Sydney will still go ahead via written notice of pleadings, or through telephone or AVL (audio visual link). Most of these matters your legal practitioner can deal with alone.
Small claims matters
All small claims hearing will remain listed and will proceed via telephone where possible. Parties have to provide all statements via email three days prior to the hearing.
NSW District Court during a lock-down
During the current lockdown, the NSW District Court won't be hosting any new jury trials.
All current jury trials and judge alone trials will continue and will still hear legal arguments and short matters. The Courts encourage lawyers to use virtual court room technology to attend, rather than attending in person where possible.
If you have any questions about whether you need to appear at court, contact your lawyer or contact O'Brien Criminal & Civil Solicitors if you are in need of legal assistance.