Britney Spears has been freed from her conservatorship after a Judge dissolved the ruling, leaving the 39-year-old to control her own health, work and $81 million estate.
"As of today, the conservatorship of the person and estate of Britney Jean Spears is hereby terminated," Judge Brenda Penny said.
In an Instagram post, Spears has promised to advocate for others trapped in abusive conservatorships.
What is a conservatorship?
In the US, a conservatorship is when a court appoints a guardian to manage the financial affairs and daily life of someone incapable to do so themselves. This is usually due to old age or physical and mental limitations.
After Spears public breakdown in 2008, authorities placed her in a 72-hour mental health lockdown. Subsequently, her father got emergency 'temporary' conservatorship due to her inability to manage her finances becuase of her poor mental health.
This temporary conservatorship then got an extension. While the specific details are not public (although Britney herself has asked for sections to be made so), her father Jamie Spears, and lawyer Andrew Wallet were co-conservators up until 2019.
In Australia, there is a similar system called a guardianship. According to the NSW Trustee & Guardian government site, "a person may need a guardian if they have trouble making healthcare, lifestyle and medical decisions on their own because of a decision-making disability." The NSW Civil and Administrative Tribunal (NCAT) makes decisions on appointing guardians and financial managers of someone's affairs.
Conservatorship abuse allegations
Since her conservatorship started, Spears has had a brace of achievements. She has released four albums, headlined a global tour that grossed a hundred and thirty-one million dollars, and performed for four years in a hit Las Vegas residency. Yet, her conservators have controlled her spending, communications, and personal decisions.
Two years ago, her father stepped down from managing her personal affairs, but continued to control her finances.
As early as 2014, in a hearing closed to the public, Ms. Spears's court-appointed lawyer said she wanted to explore removing her father as conservator. In that hearing, the lawyer cited Mr Spears' drinking, among other objections on a "shopping list" of grievances.
Spears has previously called her conservatorship "abusive" and said she was "traumatised" by the lack of autonomy.
"I was told right now in the conservatorship, I'm not able to get married or have a baby, I have a [contraceptive device] inside of myself right now so I don't get pregnant," she told a court back in June.
"I'd like for my boyfriend to be able to drive me in his car."
#FreeBritney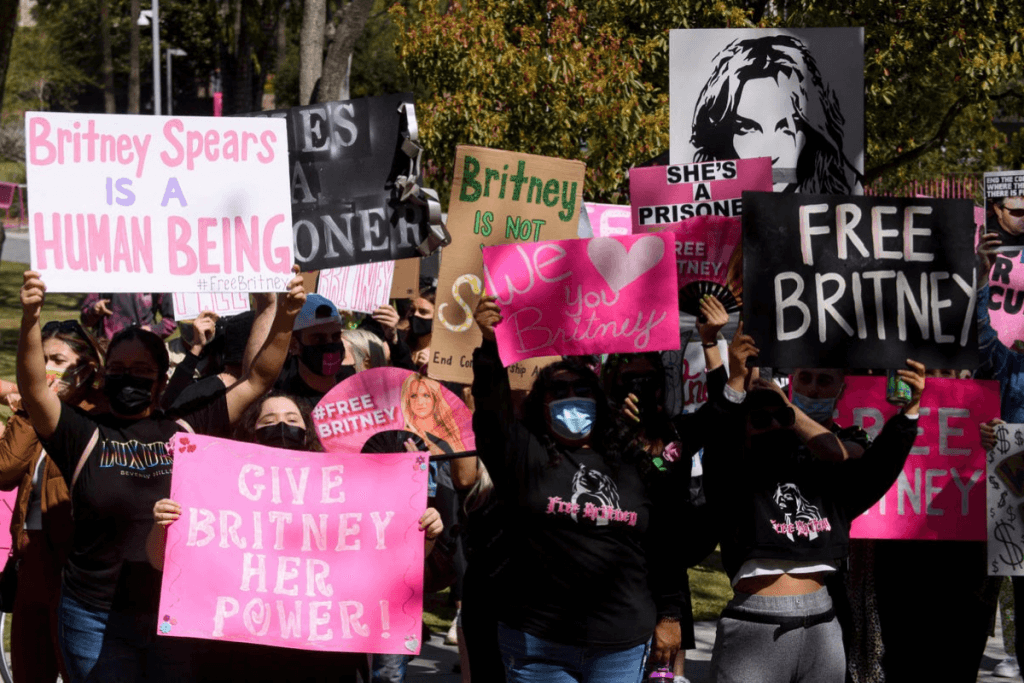 Spear's fans have advocated for the pop-star, with the movement ending in a courtroom in California.
In a short video that she uploaded to social media platform Instagram, the iconic pop singer said she's "not here to be a victim". However, she wants to leverage her own experience to support others in need of help.
"I've been in a conservatorship for 13 years. It's a really long time to be in a situation you don't want to be in," Spears said.
"I'm here to advocate for people with real disabilities and real illnesses.
"I'm a very strong woman so I can only imagine what the system has done to those people."
Spears was highly critical of the conservatorship laws in California. She described it as a "corrupt" conservatorship system.
Spears thanked the #FreeBritney movement, which had been campaigning to end her conservatorship for years.
"My voice was muted and threatened for so long, and I wasn't able to speak up or say anything," Spears told her followers.
"You gave it awareness to all of them … I honestly think you guys saved my life in a way."
Spears said post-conservatorship she was grateful for the "little things". For example, being able to have her own set of car keys, having her own ATM card and being able to buy candles.
"It makes a huge difference. And I'm grateful for that. You know, it's nice. It's really nice."