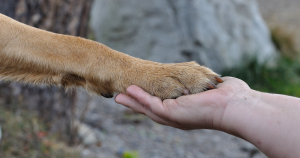 New research has outlined how the use of domestic dogs in prison could help reduce the recidivism rates of prisoners.
A study from the University of Southern Queensland found that prisoners who are at risk of re-offending are less likely to re-offend after being paired up with a dog.
Lead Researcher Dr. Lauren Humby states that dogs can increase emotional intelligence.
"Research has shown offenders often have lower emotional intelligence than the general population," Dr Humby said.
"Prisoners' often lack awareness of themselves and others and can struggle to appropriately identify and respond to their own, and others, emotions."
Behavioural cues are similar between canines and humans
According to Dr Humby, we process dog and human facial cues in a similar manner.
"Therefore, learning to read the behavioural cues of dogs could help inmates better recognise and process emotions in people, and ultimately reduce their risk of re-offending in the future," she said.
The research began with Dr Humby visiting three prisons and showing inmates collections of images of dogs exhibiting different behaviours. The prisoners were asked to describe the dog's emotion.
Preliminary findings suggest that through dogs, prisoners may be able to learn how to identify and respond more appropriately to emotional prompts.
"In prison, it's weak to show emotion, but the dogs provide us with the opportunity to show positive emotion, it's acceptable then and that's so important," Dr Humby told the ABC.
Mans Best Friend at Southern Queensland Correction Centre in Gatton
There are currently eight dogs used at the prison in Gatton for emotional purposes.
Prison Director Nick Rowe found the results to be beneficial.
"What we find is that the dogs calm these people down," he told the ABC.
"The prisoners like to take ownership of them, and actually share some emotion where these prisoners have probably never showed (sic) any emotion previously."
Serco, the private firm that manages the prison in Gatton, was looking to implement the program across the country.
The US leading the way in pairing rescue dogs with prison inmates
Zach Skow founded "Pawsitive Change" in 2016. It's a rehabilitation program that pairs rescue dogs with inmates. So far the initiative has been rolled out to five California State Prisons, and one female juvenile correctional centre.
More than 300 men have graduated from the program, with over 200 dogs saved, according to The Guardian.
The testimonials on the website of Pawsitive Change speak for themself.
"I have laughed more in the last three months than I have in the last 13 years I've been incarcerated," stated one graduate of the Pawsitive Change program.