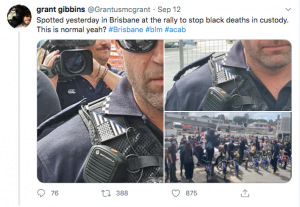 Queensland Police have told reporters that are "making enquiries" into an officer who appeared to be wearing a patch associated with far-right extremist groups.
The photo is from a Black Lives Matter protest on Friday in Brisbane after another Indigenous woman lost her life in custody.
The patch depicts a US flag bisected diagonally with a thin blue line, and is in use by extreme right-wing groups in the US.
Police arrested eighteen protesters at the demonstration.
Brisbane Greens councillor Jonathan Sri, who filmed the event, told the Guardian that demonstration was peaceful until officers became involved.
"Residents were protesting peacefully, spaced out safely, and without warning or negotiation, police started arresting people, turning a safe situation into a tense one," Sri said.
"The Queensland Police Service is aware of an officer wearing a patch which is not part of the standard QPS uniform and is making enquiries into the matter," a spokesman said. "In certain situations, officers can seek approval to wear a uniform which varies from the standard uniform policy."
A symbol of white supremacy
The thin blue line flag has been adopted by those who oppose the Black Lives Matter movement and has often been associated with violent white supremacy.
The thin blue line flag flew alongside the Confederate flag during the 2017 "unite the right" rally in Charlottesville where a woman was killed by a white supremacist.