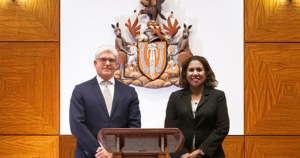 A sentencing alternative has opened in Alice Springs which will allow Aboriginal women to access tailored rehabilitation services.
Life Skills Camp is a first-of-its-kind program which aims to improve justice outcomes for Indigenous people in the Northern Territory.
The program came out of the draft NT Aboriginal Justice Agreement, with the alternatives-to-custody model being a key strategy.
"This is aimed at reducing the level of reoffending to Aboriginal women, providing wraparound support so women can strengthen themselves and their communities," NT Attorney-General Selena Uibo told the ABC.
Building Skills and Resilience for Aboriginal women
Aboriginal Justice Unit director Leanne Liddle told the ABC that the program is designed to give women skills and resilience. This is in order to address underlying causes of their offending with culturally appropriate rehabilitation.
"We expect to be inundated with clients wanting to come here — this is a unique option for the police and the courts, so that [women] can come here and learn to make different decisions," she said.
The Life Skills Camp offers 10 beds for women who need to build self-confidence and foster healthy routines and behaviours.
A successful step towards justice in the Northern Territory
Not only is the camp more cost-effective for the Territory, but it also offers a higher chance of success. This is due to consistent one-on-one support from designated social workers and a number of wraparound services.
Two women are already accessing the facility. One is working in town, and the other is completing a certificate in hospitality.
A similar program is in the planning stage to cater for young Aboriginal men in the near future.
A program New South Wales should look into
The rate of Indigenous women in custody in New South Wales is out of control.
Almost a third of female prisoners in NSW between 2013 and 2019 were Indigenous. This is despite making up less than 3 per cent of the population.
On average, Indigenous women are waiting 34 to 58 days for bail. Yet the majority of cases those women don't receive a custodial sentence.
The rate of reoffending is also alarmingly high with 87 per cent of women in prison having been there before. The majority of which had children under the age of 18.
Of the 2,760 women released from prison each year, 883 women become homeless. This is a major cause in reoffending.
Aboriginal and Torres Strait Islander Social Justice Commissioner June Oscar told the ABC that the system was in urgent need of reform.
"Our criminal justice system is in crisis, but that crisis is not to do with an increased criminality of our people.
"It is caused by unnecessary over-incarceration and a lack of desperately needed investment in community diversionary options.
"The system is broken. We are not," Ms Oscar said.