Prominent criminal barrister Phillip Boulten SC has called for charges to be laid on the prison guards involved in the death of David Dungay Jr. In 18-page advice, Mr Boulten SC outlined the grounds on which officers involved should be charged.
"I have concluded that, in addition to evidence demonstrating that these officers assaulted the deceased, there is sufficient force in the evidence about Mr Dungay's cause of death such as to make a prosecution for manslaughter viable," Mr Boulten stated in his advice.
The Dunghutti man died on 29 September 2015 after guards rushed into his cell to stop him from eating biscuits, dragged him into another cell and held him face down and had him injected with a sedative. Before he died, he told guards 12 times that he could not breathe.
David's mother Leetona Dungay said that the recent Black Lives Matter movement has helped bring her son's death into the media spotlight. "No-one listened to us. Something changed in the murder of George Floyd in the States. George Floyd just like my son. He was held down screaming 'I can't breathe' until he died."
Phillip Boulten SC stated that David Dungay Jr should not have been subjected to an intervention using force by the Immediate Action Team (IAT) and that force was under without a lawful excuse. Mr Boulten SC is of the view that there is a proper basis to charge certain prison guards with manslaughter and/or assault arising from Mr Dungay's death.
The coronial inquest in 2019 stated that none of the five guards who restrained Dungay should face disciplinary actions. The coroner stated their conduct was "limited by systemic inefficiencies in training," according to the Guardian.
NO END IN SIGHT FOR INDIGENOUS DEATHS IN CUSTODY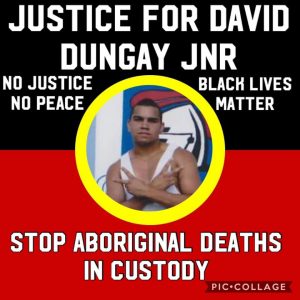 David was a prisoner of Long Bay Jail when he became one of now 439 Indigenous Australians who have lost their lives while under police or prison custody since the Royal Commission.
A 47-year-old man died in Roebourne Regional Prison in WA earlier this week.
Mr Dungay's family and supporters, including O'Brien Criminal and Civil Solicitors, have continued to rally to receive justice for this blatant display of brutality within our prisons. Recently, the protests have been continuously obstructed by NSW Police on public health grounds relating to COVID-19.
"As we are being dragged out of a park told we can't demonstrate for black lives matter, more black people are dying in custody," stated protest organiser and Senior Researcher at UTS, Paddy Gibson.
"Central to ending the ongoing killing and abuse of Indigenous people is the question of criminal accountability for the people who are responsible," he said.
"[We] have been told by so many people 'your issue is important, we understand the importance of your issue, but now is not the time to protest.' Well if you think the issue is important, now is the time to lay charges. Now is the time to actually see action."
If you want to sue the police or corrective services for unlawful arrest, false imprisonment, malicious prosecution or police assault, battery or brutality, contact O'Brien Criminal and Civil Solicitors on (02) 9261 4281 to set up a free appointment with the civil lawyers in our Sydney office.