A COVID-19 prison outbreak is growing inside Parklea Correctional Centre, in Sydney's Western Suburbs, where at least 31 prisoners have tested positive to the deadly virus.
Law reform groups and First Nations advocates have been calling for a policy response since the beginning of the pandemic. So far, the NSW Government has let them down.
Prisoners are typically at heightened risk of Covid-19 for a number of facts including:
close proximity;
inability to practice "social distancing";
difficulties in providing adequate sanitation and hygiene;
inadequate health care.
Urgency to release low-risk offenders
Children, low-risk and non-violent offenders should get release into the community. This could be either as a full release or on a community corrections order.
Greens MP David Shoebridge emphasises why infections in over-crowded prisons will flow on to our health system. This is should the outbreak not be controlled.
"Overcrowded prisons during a pandemic are not just a threat to inmates and staff, they present a very real danger to the broader public when uncontrollable outbreaks overwhelm the hospital system," Shoebridge stated.
"Reducing overcrowding and increasing social distancing in prisons can save lives, but it will only happen if courts and the prison authorities are given the power and autonomy to make these decisions."
"Any release of non-violent offenders must be accompanied by post release monitoring, wrap around support and safe accommodation. "
"We can and must better balance the traditional demands of the criminal justice system with public health outcomes and basic human rights."
"The Criminal Justice System in Australia can impose a prison sentence, but this must not become a death sentence," Mr Shoebridge said.
COVID-19 prison outbreak is an attack on First Nations people
First Nations people have continuous over-representation in the criminal justice system due to a range of institutionalised systemic racist practices. For example:
With the spread of COVID-19 in NSW prisons, First Nations people will inevitably bear the weight of the failures once again.
"With such a large proportion of the prison population being First Nations people, passively waiting for COVID to spread will inevitably increase the racist impact of the criminal justice system," Shoebridge stated.
"Western NSW has already seen how COVID can spread from a prison into the community and the scale of the outbreak in Parklea must be met with immediate action."
The failures on protection of COVID-19 from First Nations people has been felt from within prisons. However it is also impacting outside prisons such as the north-western NSW town of Wilcannia.
More than 11 per cent of Wilcannia's predominantly Aboriginal population have experienced infection with COVID-19 since the delta outbreak started in mid-June.
Vaccination rates in the town have increased recently but the latest figures show that roughly a quarter of the town's population has full vaccinatation protection.
Nationally, 19.6 per cent, or 114,126 eligible Indigenous people are fully vaccinated.
But Aboriginal communities across western New South Wales have still described the roll-out of COVID-19 vaccines to their communities as a "mess".
COVID-19 prison outbreak: Vaccination rates in prisons falling behind
Vaccinations for staff and inmates of NSW prisons commenced in March 2021. The NSW Government Corona-virus website states that by the end of the year, "all inmates and staff should have had the opportunity to be fully vaccinated".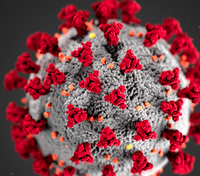 While prisoners in Australia have been included in priority vaccine rollouts, the available data on the number of prisoners fully vaccinated is limited.
In July 2021, the Sydney Morning Herald reported that some prisoners and staff were refusing the AstraZeneca vaccine over concerns of rare side effects. The hesitancy has been mirrored across the general population. However, the alternative Pfizer vaccine has only become accessible to the general population of adults from today.
The extremely rare blood clot which AstraZeneca has caused is treatable if caught early. It is understandable why inmates may not believe that their health concerns would get serious attention should they experience the rare side effect.
Aboriginal organisation Deadly Connections says the Pfizer vaccine must also be available to people in prisons. They also advocate that rapid antigen testing be available for corrections workers.
All state and territory governments in Australia should urgently gather and regularly publish data on prisoner vaccinations, Human Rights Watch said.
Rapid testing needed in prisons
Justice Action co-ordinator Brett Collins told the ABC that he has deep concerns about the state's prisons.
"The moment that the infection gets inside any of the prisons it's really a bomb going off," he warned.
Mr Collins said social distancing in a prison was almost impossible for inmates. In many cases there are two to three people in a cell "the size of an average bathroom".
Additionally, Mr Collins has urged the State to consider deploying the rapid testing kits as a priority.
"Even if it's not a perfect result, [to have a result which] happens immediately, I think that's absolutely essential," he said.