Bernie Matthews on his story of redemption – The Clink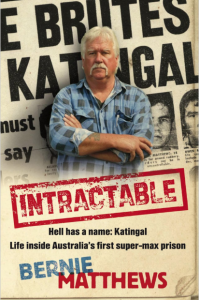 Bernie Matthews  is a convicted bank robber and prison escapee turned journalist.
Convicted on two counts of armed robbery, possession of a submachine gun, and larceny of motor vehicles, Matthews spent a large portion of his time behind bars.
In 1970, Matthews escapes before his sentence from the NSW Court of Criminal Appeal however he was recaptured on the same day. He was sentenced to 10 years in jail.
Later that year, Matthews escaped from Long Bay Jail in Sydney's southeastern suburbs spending six weeks on the run and committing four more armed robberies. He was sentenced to 18 years.
Matthews spent three years as Katingal Maximum Security Unit at Long Bay. The Unit has since closed, condemned as inhumane.
The road to redemption for Bernie Matthews
After getting out of prison, Matthews ran a half-way house for ex-prisoners, becoming an advocate for better conditions in custody.
In 1993, he became the first Australian ex-prisoner to be admitted to the Australian Journalist Association of the MEAA (Media, Entertainment and Arts Alliance) without any university degree or conventional work experience.
In 1996, Matthews robbed the National Australia Bank in central Brisbane. He was sentenced to 10 years prison, however, after spending time locked up on crimes he was since acquitted of, he received only 3 years non-parole.
In 2004, Matthews received two journalism awards at the Queensland Media Awards.
In 2006, Matthews graduated from the University of South Queensland with a Bachelor of Mass Communication majoring in journalism.
You can learn more about Bernie Matthews by listening to The Clink on Apple Podcasts, Spotify or wherever you get your podcasts.
O'Brien Criminal and Civil Solicitors proudly sponsor The Clink – telling stories of reformed bad boys.