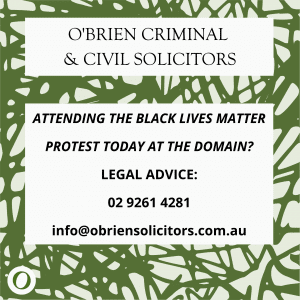 First Nations advocates and families of people who have died in custody will be staging a Black Lives Matter (BLM) protest in Sydney today.
The protest will take place at Djabarrgalli (The Domain), at 12 pm today.
NSW Police initially opposed the demonstration, however, withdrew the application later on. This means that the rally taking place today is lawful and participants cannot be fined under COVID-19 regulations.
A strict COVID-19 safety plan remains in place, in line with the new regulations on protests.
An ongoing national crisis
The ongoing death of First Nations (indigenous) people in custody is a national crisis. Demands include:
investment in community-based programs,
alternatives to custody,
and an independent body to investigate deaths in custody.
Today also marks the day that NT Courts will determine whether Constable Zachary Rolfe will face trial for murder for the death of Kumanjayi Walker in Yuendumu.
Speakers today include representatives from the Dungay, Chatfield and Reynolds families. CEO of Aboriginal Legal Service CEO Karly Warner will also be speaking, alongside Keenan Mundine from Deadly Connections and Greens MP David Shoebridge.
If you need legal assistance, contact O'Brien Criminal & Civil Solicitors on 02 9261 4281 or