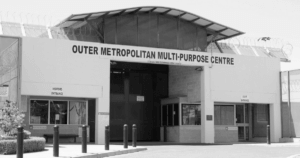 A plaque unveiling at the Geoffrey Pearce Correctional Centre this Thursday in Berkshire Park in Sydney's Western Suburbs is set to go ahead amidst announcements that all school social events are cancelled.
Upgrades to the Geoffrey Pearce Correctional Centre were completed earlier this year. The facility was formerly known as the Outer Metropolitan Multi-Purpose Correctional Centre. The Corrective Services band, the Minister for Corrective Services and Commissioner of Corrective Services will all be in attendance, as will journalists from Sydney Newspapers.
Ray Hadley of radio station 2GB contacted NSW Corrections Minister Anthony Roberts who told Mr Hadley off-air that he couldn't see an issue with the event.
NSW Government announces more COVID-19 restrictions in schools
Yesterday NSW Government announced additional measures to be implemented in schools with restrictions tightening due to an increasing number of COVID-19 cases. These measures include:
Students to remain within their relevant class or year group;
Schools not to travel outside the local area;
Parents not permitted in school grounds or at sporting events held during school hours;
All group singing and other chanting activities including the use of wind instruments in group settings are banned; and
School formals, dances and graduations are banned.
This event could possibly put thousands of prisoners at risk of contracting Coronavirus. It is irresponsible for this function to go ahead while NSW Government is banning similar events in schools.
Inconsistency in permitting of events
If we are all in this together, then the NSW Government should ensure consistency and lead by example by delaying such events or conducting them virtually. This is despite no allowances have been given for those protesting deaths in custody.  Yet, events for plaque unveiling (with more attendees than the protests) have been allowed.
O'Brien Criminal & Civil Solicitors contacted the Corrections Minister's Office for comments this morning and is yet to receive a reply.