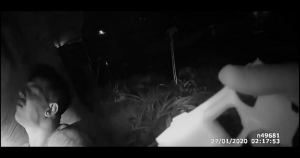 NSW Police are already footing the $100,000 bill for NRL Star Curtis Scott's legal fees in relation to charges laid against him on the night he was tasered, pepper-sprayed and handcuffed by police.
Scott is set to sue the NSW Police, likely for assault, battery, unlawful arrest and false imprisonment. All of the officers involved are now subject to a Law Enforcement Conduct Commission investigation.
Estimates are floating around which indicate Scott could receive between $300,000 and $500,000 based on similar cases.
Greens MLC David Shoebridge has seen this type of matter over and over again.
"This is just one of so many cases where police have abused their powers. Just last year NSW Police paid out almost $25 million in damages."
Suing the police could lead to substantial damages paid
Former Dean of Law at UNSW David Dixon was not surprised in the estimate of damages. He cited that this case was an excellent case to be awarded what's known as exemplary damages – extra costs payable by the police to set an example that this behaviour is not acceptable. The exemplary damages would be a nod to comments made by the Police Commissioner that he felt 'sympathy' for the police officers involved.
More reason to award higher damages was the fact that Mr Scott was asleep when he was handcuffed. "Mr Scott did nothing to provoke the attack on him," Dixon told the Sydney Morning Herald.
"Most times the victims of police violence are not well-paid footballers with access to lawyers and a PR company.  Most times its First Nations people, young people and people of colour," Shoebridge stated.
"This is why we all need to stand up and demand more accountability and an end to police investigating police."
O'Brien Criminal & Civil Solicitors Principal Solicitor Peter O'Brien believe this high payout could be favourable in bringing more attention to police accountability.
"Financial compensation is an effective way of bringing police to account for their unlawful behaviour. The greater the payout the more the state will notice how detrimental police misbehaviour is, not just to the victim but to the wider community," O'Brien said.
"More needs to be done to ensure there are transparency and accountability by the police officers who act unlawfully."
However, a public payout in the courts may not happen. It's likely that the police will attempt to settle the case in return for a non-disclosure agreement.
If you want to sue the police or corrective services for unlawful arrest, false imprisonment, malicious prosecution or police assault, battery or brutality, contact O'Brien Criminal and Civil Solicitors on (02) 9261 4281 to set up a free appointment with the civil lawyers in our Sydney office.