If you are in another state or plan to visit another state, please visit other pages. Take a look at our state specific pages. 
QLD POLICE POWERS AND SEARCHES
The laws covering QLD police powers to search are in the Police Powers and Responsibilities Act 2000 (QLD)
Told you're going experience a police search at a music festival? Not sure if it's lawful? Comply with police directions and tell them: 
"I COMPLY BUT I DO NOT CONSENT"
POWER TO SEARCH PERSONS IN QUEENSLAND​
WHEN
RULES RELATING TO SEARCHES
WHEN
QLD Laws do not distinguish between types of searches.
QLD Police can search you upon the existence of a 'prescribed circumstance' that they reasonably suspect existed.
That is, if QLD police reasonably suspect you have weapons, drugs, stolen property, evidence of a crime, tools for housebreak, or if you've refused to comply with a hand held scanner.
Under QLD Law, "reasonable suspicion is met also met if a drug dog makes an indication of you (i.e. sits next to you).
A dangerous article that is being or was used in or in connection with the commission of a relevant offence,
A prohibited plant or a prohibited drug.
RULES RELATING TO SEARCHES
Laws covering drug offences in QLD are in the Drugs Misuse Act 1986 (QLD)
QLD Law sorts drugs into two categories:

Schedule 1: cocaine, LSD, MDMA, ecstasy
Schedule 2: cannabis and morphine

The drugs are then categorised by quantity called schedule 3 and schedule 4.
The maximum term of imprisonment is depended on the schedule of possession
and/or supply.
You can be charged in QLD for possession and supply of drugs.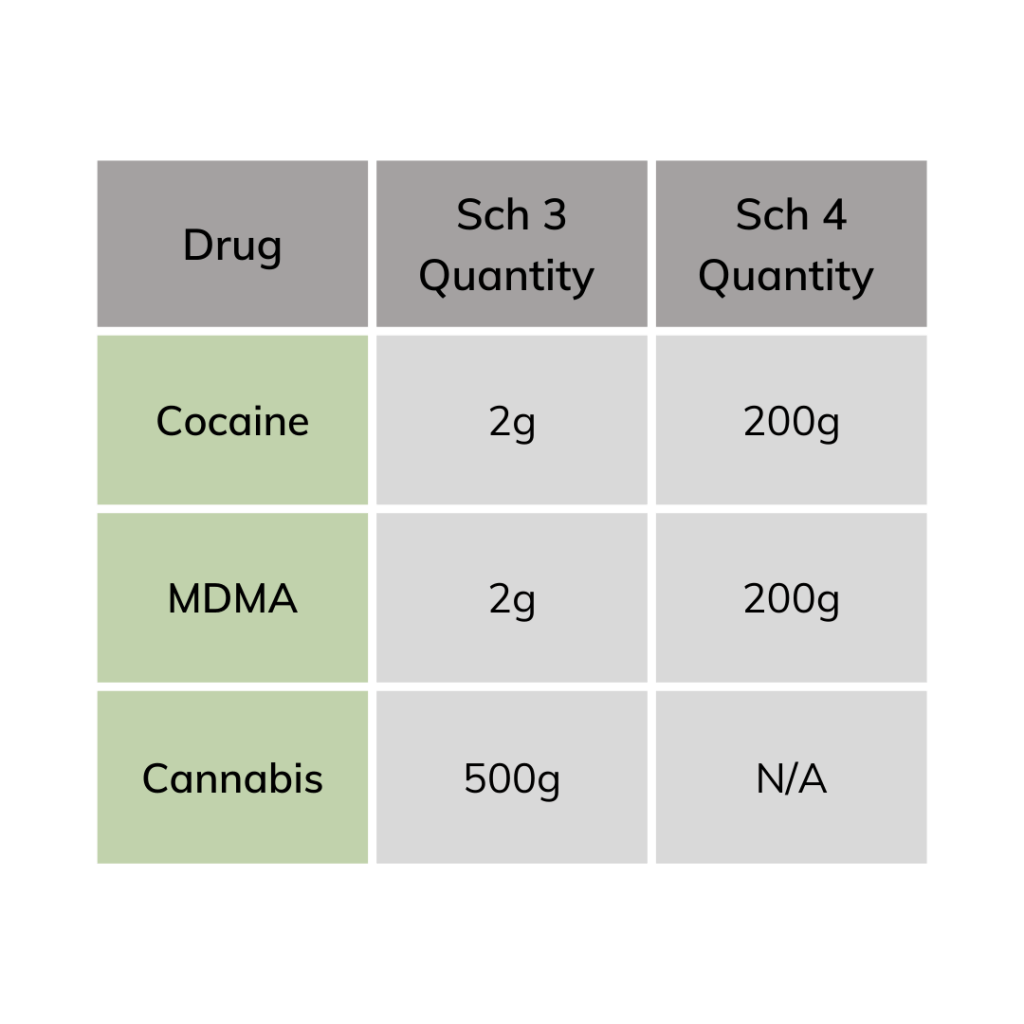 Having knowledge and control of the prohibited drug
If police find drugs in a car – all the people in the car face charges of possessing the drug
Section 129(1)(c) in the Drugs Misuse Act has the effect of deeming all people who occupy a house to be in possession of any drug that is found in the house. Unless they can show that they didn't know and had no reason to suspect that the drugs were there
Actual Possession can be:
Physical possession
Non-physical possession

Mere knowledge of the existence of a drug
Intention to have drug

Joint possession
Deemed possession:
Proof that a dangerous drug was at the material time in or on a place of which [the person charged] was the occupier or concerned in the management or control of, is conclusive evidence that the drug was then in the person's possession. 
1. Give, distribute, sell, administer, transport or supplying drugs
2. Offering to do the above
Dealing W/ Police & Security
Police can ask for your name and address if they think you've committed an offence or could have information about an offence. You must give them this information!
Yes! If you filmed police and you're concerned about their conduct – feel free to send it to us confidentially and we can review it for you.
Security guards do not have the same powers as police.
However, festivals may require you to give consent to security searching you as a condition of entry and refusing this may allow them to not let you in.
Some case studies where we have represented clients who have been charged at music festivals:
We can provide you with advice on your legal options including your legal rights, possible defences and penalties.
Your first call with us is free