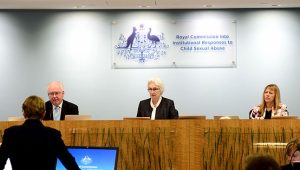 The Royal Commission into Institutional Responses to Child Sexual Abuse held its final sitting today. The five year inquiry concludes with the final report to be presented to the Governor-General tomorrow.
O'Brien Criminal and Civil Solicitors, led by Peter O'Brien, has been heavily involved in this Commission having represented key individuals involved in the case studies. We thank these brave individuals for speaking out about their experiences and providing crucial evidence that has been used to shape the findings and recommendations by the Commission. The stories of our clients and of other survivors emphasise the importance of this issue and the urgency required in implementing safeguards. We strongly urge the Government to follow the Commission's recommendations as they are necessary to ensure the protection of children and to prevent such abuses from occurring in the future.
This inquiry has provided a platform for survivors of child sexual abuse to speak out about their experiences to ensure that appropriate action is taken to prevent this from occurring in the future. The five year inquiry has held over 8,000 private sessions with survivors of child sexual abuse and handled more than 41,000 calls and 25,000 letters and emails. The Commission has reported over 2,500 allegations to police with 230 prosecutions having commenced.
O'Brien Criminal and Civil Solicitors' involvement in the inquiry have shown that there are systematic inadequacies that have failed to prioritise the interests of the children. This has contributed to the Commission's findings identifying that there has been a  cultural tendency to protect the institutions' reputation as opposed to reporting sexual abuse allegations to police. Even where such allegations are reported, police and child protection agencies do not believe children and are not willing to investigate. This inquiry has been an important step in facilitating societal change and O'Brien Criminal and Civil Solicitors is proud to have been involved in the process.