**Section 203E of the Crimes Act 1900** establishes an offence for intentionally causing a fire and being reckless as to the spread of the fire to vegetation on public land or land belonging to another. This bushfire arson offence carries a maximum penalty of 21 years' imprisonment.
Bushfire arson proof of intent
Proof of intention is sufficient to establish recklessness under this section. Therefore, a person who intentionally causes a fire can be guilty of the offence, even if they did not intend for it to spread to vegetation.
Exceptions to this section exist for firefighters and those acting under their direction. These persons will not be criminally responsible if they initiated the fire during bushfire fighting or hazard reduction operations.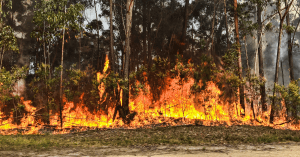 If a person is on trial for an offence under this section and the jury cannot satisfy themselves that they are guilty of the offence charged, but do consider that they are guilty of an offence under section 100(1) of the Rural Fires Act 1997, then they may still receive a punishment in accordance.
Offenders who commit this crime without regard for public safety will not be considered a separate aggravating factor under the Crimes (Sentencing Procedure) Act 1999.
Contact a criminal defence lawyer
If you or someone you know faces police charges for this offence, it's crucial to seek legal representation immediately. If you're seeking legal advice or representation, trust us to provide expert guidance and support. Contact our criminal defence lawyers today.