Successful appeal for strip search of a minor
Police conduct strip search on minor in public
Eve and her partner dropped a friend off at an event in Darling Harbour, Sydney when the Police pulled them over. Eve was in the passenger seat while her partner drove.
Police began questioning Eve's partner and searched him and his vehicle, finding $300 cash. The police then told Eve that they would search her. Eve told the police that she was pregnant, and a minor, so they could not search her. The police cautioned Eve and conducted a general search of her belongings. After another conversation, the police informed Eve that they would strip search her.
They put Eve in the back of a police caged vehicle, with the back of the van open and facing the road. This meant that passers-by could potentially see her. They directed her to lift up her bra so police could search her. The officer searching her placed her hand down the front of Eve's pants to search between her jeans and her underwear. The officer then pressed her hand on Eve's groin area over her underwear.
During the search, the police found drugs. Eve was charged under s 25(1) of the Drug Misuse and Trafficking Act 1985 for knowingly taking part in the supply of a prohibited drug and s 193C of the Crimes Act 1900 for dealing with proceeds of crime.
Children's Court finding of guilt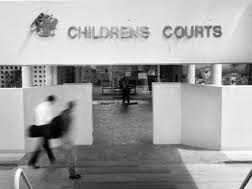 Eve was found guilty of the offences in the Children's Court of NSW. Eve approached O'Brien Criminal & Civil Solicitors to contest the charges. O'Brien Solicitors appealed the case to the NSW District Court based on several breaches of the Law Enforcement (Powers and Responsibilities) Act 2002 ('LEPRA'), including that:
Eve was a minor and the strip search took place in the absence of Eve's parent or guardian, breaching s 33(3) of LEPRA
the police did not make any record of the reason for not conducting the strip search in the presence of a parent or guardian, breaching s 33(3A) of LEPRA, and;
the police did not have reasonable grounds to search Eve, breaching s 33(5) of LEPRA.
District Court appeal quashes the charges
After the conclusion of Eve's criminal matter, O'Brien Solicitors started a civil action against the State of NSW for:
false imprisonment,
assault, battery,
and strip search on a minor by police.
The case settled by deed and Eve received a favourable outcome.
*We changed the names to protect the identity of our clients.
Contact O'Brien Criminal and Civil Solicitors on (02) 9261 4281 to set up a free appointment with the drug defence lawyers in our Sydney office.
Other Case Studies Can Be Found Below