Queensland is set to become the second jurisdiction in Australia to legalise illicit drug testing, as part of its commitment to reduce risks and harms associated with illicit drug use.
Queensland's announcement follows the Country's capital, which ran mobile testing sites in 2018 and 2019 before opening up the country's first fixed site in late 2022.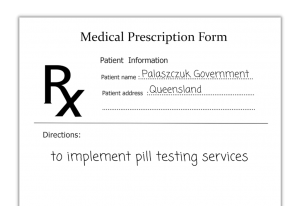 What is Pill Testing:
Pill testing involves the chemical analysis of substances suspected to be illicit drugs that members of the public intend to consume voluntarily. These samples may include tablets, capsules, powders, tabs/blotter paper, and more.
The goal of pill testing is to identify any harmful contaminants, that may be present in the substance.
This information can then be relayed to the individual, allowing them to make an informed decision about whether or not to consume the substance.
How does it work?
The different testing options currently available are:
onsite or festival-based services

, that generally test at the point of consumption, also typically lightweight and provide rapid turnaround analysis

fixed site services

, to which consumers are usually required to travel. They offer more detailed and accurate analysis, but require people to travel to a specific location
Pill Testing Australia (PTA), offers fixed-site pill testing services. The process begins by asking clients if they truly want to consume drugs and if they'd like to dispose of them. The drugs are then weighed, photographed, and a sample is put through a Fourier Transform Device Spectrometer (FTIR), which identifies the different compounds present in the substance.
Using a laser, the substance is cataloged, creating a unique "fingerprint". That then goes in a database alongside tens of thousands of other chemical fingerprints. The sample's potency is then measured using the Ultra Performance Liquid Chromatography. If the lab cannot identify a substance in the sample, the client gets that information and a warning against consuming it.
The process has received praise from experts in the field, including Queensland Health Minister Yvette D'Ath, who said it would "inform people what chemical substances are in their drugs."
CEO of the Queensland Network of Alcohol and other Drug Agencies, Rebecca Lang, called it a "pragmatic and realistic" move by the government.
Pill Testing Goes Global: How Other Countries reduce Drug-Related Harm
According to Rebecca Lang, CEO of the Queensland Network of Alcohol and other Drug Agencies, drug checking services have been successfully reducing drug-related harms for over 20 years in Europe. Especially those harms related to contaminated or highly concentrated drugs. Pill testing is now available in more than 20 countries around the globe, including Canada, New Zealand, the UK, and the US. Many European countries also provide the service. 
The Netherlands has offered pill testing since the late 1990s.
Pill Testing Across Australia: A look into VIC and NSW
Victoria:
Pill testing is a controversial topic in Victoria. Premier Daniel Andrews is firmly against it.
Andrews made his stance clear stating, "The government is not introducing a pill testing trial. Queensland can do that if they choose to, we aren't."
He continues with how, "Pill testing can often give people the sense that it is safe to take these drugs. And it isn't. The pharmacology, the evidence, is very, very clear."
However, the Minister for Health and Ambulance Services, Yvette D'Ath, has expressed support for the service, stating that "it is important to note that pill testing services do not promote that drugs are safe" and ; "positively affect outcomes regarding illicit drug use."
New South Wales:
Despite recent drug-related deaths at music festivals, the Premier of New South Wales, Dominic Perrottet, has refused to consider pill testing.
Perrottet has maintained his position, in line with the Howard inquiry. "I disagree with decriminalisation [and] I want to make very clear the NSW government does not support the recommendation to decriminalise drugs in NSW."
The Police Minister, Paul O'Toole, shares this sentiment and warns that pill testing could give drug users a false sense of security. 
On the other hand, the Opposition leader, Chris Minns, promised to hold a drug summit if Labor wins the upcoming state election. This is similar to one that led to the creation of Australia's first supervised medical injecting centre in Kings Cross.
O'Brien Criminal & Civil Solicitors strongly support pill testing.