Mt Druitt Apprehended Violence Order (AVO)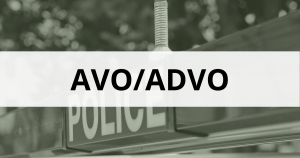 MD and his girlfriend visited a friend's house in Sydney's outer western suburbs when they began arguing. His girlfriend attempted to leave but MD grabbed her and an altercation followed. The friend eventually grabbed MD from behind and pushed him out the front door and contacted Police. They then arrested and conveyed him to Mt Druitt Police Station.
A Provisional Apprehended Violence Order was applied for by the Police on behalf of the victim. Later that month, the victim and MD were still living together. The victim told MD that she was going to visit her brother's house for the day. MD prevented her from leaving the house and caused the victim to feel scared. He then produced an orange Stanley knife and stated that he would slash her if she tried to leave. MD eventually let the victim leave, who went to a friend's house. She went to Mt Druitt Police Station to report the incident.
When MD later attended Mt Druitt Police Station as part of his bail conditions, police arrested, cautioned and conveyed him to Riverstone Police Station.
Mt Druitt Local Court: common assault and stalk
O'Brien Criminal and Civil Solicitors successfully represented MD at Mt Druitt Local Court. MD instructed us to plead guilty to the charges of:
contravene apprehended violence order
and stalk/intimidate.
We successfully made submissions and convinced His Honour that special circumstances existed. In relation to the three charges, the magistrate recorded convictions and imposed a sentence of imprisonment for 8 months. However, this was also backdated and the non-parole period expired. MD had immediate release from custody and remained on parole with supervision for 7 months.
Contact O'Brien Criminal and Civil Solicitors on (02) 9261 4281 for a free appointment with criminal defence lawyers in our Sydney office. 24 hour phone / text: 0421 373 961