Our lawyers, Sidnie Sarang and Patrick Latham represent Cherish Kuehlmann
What Happened to Cherish Kuehlmann:
Kuehlmann, alongside around 30 others participated in a protest at the Reserve Bank in Sydney.
This protest was against the cost of housing, bank profits, and the Reserve Bank's monetary policy.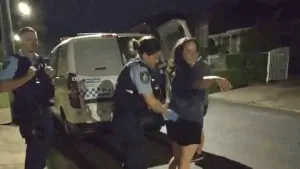 Following the protest, at around 12:30am, Police arrested Kuehlmann at her home in suburban Sydney.
The arrest  followed up with police imposing strict bail conditions.
What was Cherish Kuehlmann charged with:
Kuehlmann faced charges of aggravated entering of closed lands. That offence carries a maximum $5500 fine.
What did the bail conditions include?
The bail conditions prohibited her from entering within 2km of Sydney's Town Hall. This effectively excludes her from the CBD and much of inner Sydney.
Cherish Kuehlmann bail conditions dispensed with by Local Court
However, the bail and arrest experienced criticism as "heavy-handed" and "unnecessary."
Our lawyer, Sidnie Sarang, argued in the Downing Centre Local Court that the bail conditions imposed on the student were excessive for a fine-only offense.
Ultimately, Kuehlmann received a favorable outcome as the Court dismissed her bail conditions.
In conclusion, Kuehlmann plans to plead not guilty at her sentencing hearing on 25 October, 2023.
More to come.
If you face onerous bail conditions, contact our bail lawyers today. The first consultation is free.