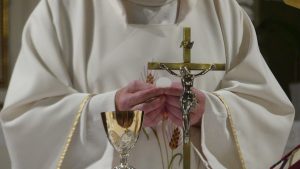 A Catholic order is due in court to argue that it should get protection from abuse claims relating to a former paedophile teacher, despite allegedly covering up his crimes for decades.
The Marist Brothers allegedly knew about child abuse complaints against Brother Francis "Romuald" Cable as early as 1967 but did nothing to eject him from the order or inform police.
Who was Francis William Cable?
Francis William Cable, also known as "Brother Romuald", was a former Marist Brother who worked in several Marist Brothers schools. He was one of many individuals who committed acts of child sexual abuse. Cable eventually got a sentence of 16 years' imprisonment in 2015 for crimes against 19 boys at Marist Brothers schools in Maitland, Hamilton, and Pagewood between 1960 and 1974. In 2019, he got an additional eight years behind bars for crimes against another five victims. Cable died in late 2022 while awaiting trial for further charges scheduled for 2023.
Catholic order argues it cannot receive a fair trial
The Marist Brothers are now attempting to use Cable's death to shield itself from civil claims brought by a survivor, who is known by the pseudonym Mark Peters.
The Catholic order are arguing that they will not receive a fair trial as they were not able to get a witness statement from Cable before his death.
Survivors' advocates have described this approach as "appalling" and a "pretty low blow" for Cable's victims, whose complaints were ignored by the church for years.
Allegations against the Marist Brothers
Peters alleges that the Marist Brothers knew of complaints against Cable many years prior to his abuse, but took no action.
Marist admits that it received multiple other complaints about Cable, but says that did not occur until 1971, after Peters' abuse.
Peters alleges that the Marist Brothers breached its duty of care to him by:
allowing "a known paedophile" to remain in the position of teacher at school and;
by failing to depose Cable of Holy Orders in 1967.
Peters also alleges that the Catholic order failed in its duty by:
not alerting the police to what its internal investigation had found in 1967 and;
by "permitting Cable continued access to young boys after 1967, in the knowledge that he was a compulsive paedophile".
Survivors of face significant barriers
The delay in seeking justice is the result of complex and significant barriers facing survivors, which means that the deaths of their alleged perpetrators is common.
This approach by the Marist Brothers is at odds with the Royal Commission's findings, which showed that it took 22 years on average for survivors to come forward.
Legal Assistance for Survivors:
The effects of historical abuse can be severe and long-term, affecting an individual's mental and physical health, relationships, and overall well-being.
Seeking legal and professional support can be a necessary step in the process of healing and achieving closure and justice.
Contact us if you or someone you know experienced historical abuse, it is important to seek legal advice and support. Our law firm has experience in handling such cases. 
Support Services:
Here are some of the support services that allow survivors to get the help that they need.
Lifeline Australia: 13 11 14
Beyond Blue: 1300 22 4636
Mental Health Line: 1800 011 511
 Talk with an Aboriginal or Torres Strait Islander Crisis Supporter: 13YARN 13 92 76 (24 hours/7 days)
National Sexual Assault, Domestic Family Violence Counselling Service: 1800RESPECT (1800 737 732)
Rainbow Sexual, Domestic and Family Violence Helpline: 1800 497 212 (10am-5pm/7 days)
Blue Knot Foundation: 1300 657 380 (Available 9 am to 5 pm AEST)