Cat bites man and he assaults his girlfriend
BR had an intimate relationship with the alleged victim for 8 months. The victim was eleven weeks pregnant with BR's child.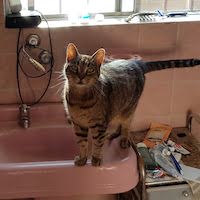 BR was attending to the family cat, when the feline bit him and he became angry. The alleged assault victim approached BR and asked him what was wrong. BR became angry and shouted at her. The victim walked away towards her room and BR followed her, continuing to shout and call her names. BR made a verbal threat and the alleged victim then asked BR to leave, so he began packing his bags.
After finishing, BR went outside and noticed the alleged victim rolling a cigarette. Then, BR emptied the alleged victim's tobacco on the ground and attempted to slap a cigarette from her hands, causing her to fall to the ground. BR then picked the alleged victim up once he realised what he had done. She contacted the police and BR left.
The alleged victim provided police with a Domestic Violence Evidence in Chief (DVEC), stating that BR threatened her and made her fear for her safety. Police later arrested, cautioned, and conveyed BR to Riverstone Police Station, in Sydney's outer western suburbs.
Successful defence by our criminal defence lawyers
O'Brien Criminal and Civil Solicitors successfully acted for BR at the Children's Court. Our criminal defence lawyer team negotiated with the police prosecutors. After this successful negotiation, the prosecution agreed to withdraw the charges if no further incidents occurred in the next three months. Accordingly, BR was free and clear of any criminal conviction or sentence.
Contact O'Brien Criminal and Civil Solicitors on (02) 9261 4281 to set up a free appointment with the criminal defence lawyers in our Sydney office. You can also use our  24-hour phone/ text: 0421 373 961