Tobacco black market booming in Sydney
Cigarette smuggling on the rise, one in eight cigarettes smuggled
Areas with large migrant populations are prime markets for the trade
Some smuggled cigarettes contain 'mould, faeces and even asbestos'
500,000 cigarettes and $1m in cash seized in recent raids
It is emerging as one of the most lucrative illegal trades on the streets of Sydney's southwest, but it's not drug dealing or car boosting — it's the black market in tobacco.
Last month, in seven raids across Fairfield and Bankstown, police seized more than 500,000 smuggled cigarettes and $1 million cash.
Detective Superintendent Murray Chapman, from the NSW Property Crime Squad, said illicit cigarettes were usually made in South-East Asian factories before being smuggled into Australia and sold in legitimate businesses.
"We have been made aware of cases where fake cigarettes have been found to contain mould, faeces and even asbestos," Supt Chapman said.
Smugglers cash stash. In recent raids in south west Sydney police seized $1 million cash.
Associate Professor of Law Mark Lauchs has researched the tobacco smuggling trade in depth.
The Queensland University of Technology professor said areas such as southwest Sydney, with large migrant populations and lower than average incomes, were prime markets for the illegal tobacco trade.
TOBACCO AND $1M SEIZED IN FAIRFIELD RAID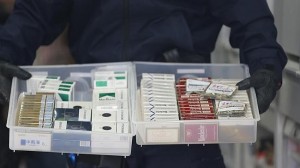 "Due to the planned increase in tobacco taxes in Australia, making them the most expensive in the world, there are concerns that certain communities have a potential of becoming markets for black market tobacco products," Prof Lauchs said. "These include migrant communities, particularly those with high rates of smoking in the home nations."
Academic Mark Lauchs says poor areas with high immigrant populations are prime markets for smugglers.
In Asia, a pack of cigarettes costs as little as $1, but in Australia the same pack can cost more than $20. With the price of being a pack-a-day smoker now exceeding $100 a week, people are turning to illegally imported tobacco.
In 2012-13, Customs seized 343 tonnes of tobacco destined for the black market. If the products had hit the street, the Government estimates it would have lost more than $150 million in revenue — a record high.
The seizures were made up of 200 million cigarettes and 183 tonnes of rolling tobacco. The cigarettes could meet the needs of 21,900 pack-a-day smokers for a year.
A 2011 report by Deloitte, paid for by British American Tobacco, said smuggling cost taxpayers more than $1 billion a year in lost revenue. It also said one in every eight cigarettes lit in Australia was smuggled.
There's so much contraband in this Customs facility they can't tell us where it is for fear it will be broken into. The shelves on the left are full of smuggled tobacco.
Supt Chapman said smugglers were only concerned with making money. "Typically, counterfeit cigarettes are shipped worldwide by organised criminal syndicates who have no concern for customer wellbeing,'' he said. "Making money is all that matters to these groups.''
Customs say the dodgy smokes are mostly smuggled into Australia in shipping containers, with importers hiding them among everyday goods.
In March last year, Customs officers at Botany Bay found two tonnes of tobacco inside a shipment of bamboo blinds. In a seizure in Melbourne in March, when officers searched a shipping container they found 100 boxes stuffed with cigarettes and tobacco among other boxes filled with household goods such as blankets, plastic ware and ornaments.
In Australia's biggest ever seizure these bamboo blinds turned out to be stuffed with loose leaf tobacco.
In 2012, in an attempt to curb the growing problem, the Federal Government introduced increased penalties for smugglers, including a possible 10 years in jail.
Despite Customs thwarting more than 120 attempts to smuggle tobacco products, since 2012 the new laws have been used just once. That was in August this year, when two Korean nationals, a man, 23, and a woman, 30, were sentenced to 20 months prison and fined $100,332 for illegally importing 527,000 cigarettes.
In Australia's biggest ever seizure these bamboo blinds turned out to be stuffed with loose leaf tobacco.
Prof Lauchs said the fact most smugglers were just being slapped with fines was part of the problem. "If you're only getting caught one in 20 times … and someone hits you with a $1 million fine you're way ahead," he said.
Last week, the Federal Government brought in the second of four increases on cigarette taxes. The tax on a single cigarette is now 46¢ — meaning tax accounts for $11.57 of the price of a pack of 25 cigarettes. The tax consumers pay on a pack of 25 will increase to about $13.02 in September next year and $14.65 by 2016.
Meanwhile, NSW Police say a pack of smuggled smokes usually sells for between $8 and $10.
Prof Lauchs said taxes that made tobacco more expensive had stopped many people smoking but hardcore addicts would continue to seek a low-cost alternative.
According to data from the Australian Institute of Health and Welfare, the number of daily smokers aged over 14 has fallen from 16.6 per cent in 2007 to 12.8 per cent last year.
"Price rises create an incentive for people to seek cheaper tobacco from an illegal marketplace; a marketplace with an increasing profit margin," Prof Lauchs said.
WHAT DO YOU THINK?
Is tobacco smuggling a big problem in Sydney?
The tobacco industry argues control measures such as taxes and plain packaging are fuelling an under-the-counter market.
The Cancer Council denies the link. "The tobacco industry has a history of attacking tobacco control measures on the basis that they will boost illicit sales, but the Cancer Council has seen no convincing evidence to suggest this," spokesman Rory Alcock said.
As one southwest Sydney tobacconist pointed out, smugglers are not the only ones trying to compete on price and light up the hardcore smoking market. The tobacconist, who did not wish to be named, said for most of his customers price was the only factor.
"The way most places who do sell them work it out is they hand over the illegal ones to their regulars. That way they can avoid attention," he said.
"We don't sell the illegal ones here but we get a lot of people coming in asking for cheaper and cheaper smokes.
"When JPS (Just Plain Smokes) first came out you couldn't keep them on the shelves they were selling so fast.
"Then they brought out Rothmans and they're cheaper again, so now they're our top brand. Before that Winfield used to be our bestseller but now everyone just buys the cheapest brands."
Rothmans sell for about $13.50 per pack of 25, meaning tobacco companies and retailers divvy up a post-tax margin of about $2.
This article originally appeared in the Daily Telegraph, Sep 10, 2014