Shoplifting; Larceny Section 117 Crimes Act 1900; Guilty Plea; Good Behaviour Bond; Section 9 Crimes (Sentencing Procedure) Act 1999
Facts: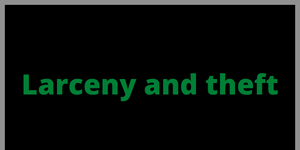 RD was caught attempt to shoplift certain items from a department store in Sydney. Once RD was caught in person, police reviewed CCTV which revealed RD had stolen other items recently.
RD was charged with 2 counts of larceny around Sydney in what was a reasonably sophisticated theft ring.
Outcome:

After a guilty plea and assistance by our criminal defence lawyers, RD received a good behaviour bond for 18 months (a section 9 bond).
Contact O'Brien Criminal and Civil Solicitors on (02) 9261 4281 to set up a free appointment with the defence lawyers in our Sydney office. 24 hour phone / text: 0421 373 961