Read about how one of our experienced drug lawyers represented a client charged with the possession of a prohibited drug in their sentencing hearing. 
Client stopped and searched by police for drugs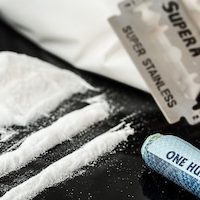 CG was stopped by the police outside a hotel in Sydney. They asked him whether he had just bought drugs to which he said "Yes".
Subsequently, he handed the police a small resealable bag containing white powder. They then arrested him and charged him with possess prohibited drug. It was likely that the drug was cocaine, which is popular especially in the inner city and Eastern Suburbs.
O'Brien Criminal & Civil Solicitors represented client in sentencing hearing
One of our Sydney criminal defence lawyers represented CG in his sentencing hearing at Downing Centre Local Court in Sydney's CBD.
The defence presented CG's case in the best possible light.  This included highlighting his early plea, cooperation with the police, and his personal circumstances as supported by medical reports.
The Magistrate took these range of factors into account. However, given the fact that he had faced two prior charges where he had received a section 10,  he got a conviction in this instance. Consequently, the Magistrate fined him.
If police have charged you with possess prohibited drug, speak to an experienced drug lawyer. Call us on (02) 9261 4281 to book a free initial consultation.