Compensation for unlawful stop & search
Britt* drove with two friends and a dog in Sydney's inner west, heading to Camperdown Park.
Police pulled Britt over for the manner of her driving and conducted an RBT (random breath test). Police use a breath test to establish if someone exceeds the prescribed content of alcohol (PCA) in their blood.
However, the RBT returned a negative result.
However, officers continued to ask Britt questions about where she and her friends were going, and what they were doing.
Due to the time of night (10pm), and that Police allegedly had "intel" that Camperdown Park is a "known drug area", police conducted a search of her vehicle and all passengers.
Police discovered a small amount of marijuana and LSD in the car. They issued a future court attendance notice to Britt for drug possession.
Successful defence of criminal charges
Britt hired O'Brien Criminal & Civil Solicitors to defend her at the criminal hearing. We successfully had the charges dismissed after proving that the detention after the RBT was unlawful and as such the evidence was inadmissible.
O'Brien Criminal & Civil Solicitors then represented Britt in a claim against NSW Police for false imprisonment, assault, battery and trespass to goods.
Woman sues NSW Police for false imprisonment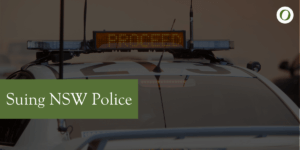 Britt filed a claim for false imprisonment in the civil jurisdiction of the NSW District Court.
In conclusion, we negotiated with the representative of the State of NSW where Britt was awarded compensation and the costs of his legal affairs were paid for.
O'Brien Criminal and Civil Solicitors are able to pursue your possible claim anywhere in Australia. Please don't hesitate to contact us today on 02 9261 4281 or by email at