Client under ADVO when she visited her family's house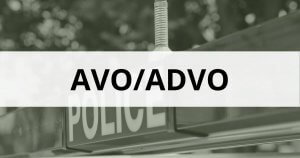 AB was under a  apprehended domestic violence order (ADVO) which prohibited her from visiting the house of her sister, mother and step-father. On the night in question, AB went to this house to ask her mother for money. This alone would be an ADVO breach. After consuming some alcohol, a dispute began between AB and her step-father. AB grabbed a knife and tried to cut herself with it, but, her step-father was able to prevent her from doing so. Her sister called triple 0 before AB ran out of the house and down the street, only to return a few moments later. She was on the front porch and began banging on the front door.
Several charges laid against client including ADVO breach
When the police arrived, they grabbed AB and restrained her. She struggled against them and her nails scratched the skin of several police officers. Police charged her with 4 counts of assaulting a police officer in execution of duty, and contravening her apprehended domestic violence order. She pleaded not guilty to the 4 assaults and pleaded guilty to breaching the ADVO.
Verdict of not guilty for the assault charges
We represented AB in her hearing at Bankstown Local Court. In relation to the assaulting police charges, the defence submitted that the police acted inappropriately while in the execution of their duty at the time of the incident. For example, the police didn't consult paramedics before they approached our client. Also, they surrounded AB and she was compliant with them. Finally, it was not until the police grabbed her that she reacted. This argument was successful. The magistrate found her not guilty of the 4 assault charges.
Client sentenced to good behaviour bonds for the ADVO breach charge
In relation to the breaching ADVO charge, we represented AB in her sentencing hearing. We obtained a pre-sentence report and a psychological report that outlined her mental health concerns. She got a section 9 supervised good behaviour bond.
If police charge you with an offence such as common assault or breaching an ADVO, speak to O'Brien Criminal & Civil Solicitors to get expert advice on your case.